Scottish artist Hatti Pattisson has been creating expressive land and seascapes for over fifteen years. Born and raised in the East Neuk of Fife, Hatti has always drawn inspiration from the natural world and the spaces and places around her. Hatti's work explores three key themes: floral, landscape and seascape, where each offers an expression of her relationship to her surroundings, thoughts, memories and emotions.
As well as original works of art and commissioned paintings, Hatti produces hand-finished art prints, where each print is overpainted with acrylic, adding texture and detailed brushstrokes, making each limited edition print a unique work in its own right. Hatti also produces a range of textiles and lampshades that draw inspiration from her paintings, and these pieces have been used in commercial interior design projects, including The Three Chimneys restaurant on Skye.
We caught up with Hatti to chat about her artworks and designs, and also to discover some of her favourite places in and around Edinburgh, where Hatti lives with her husband, Mike Jameson, and their young son, George.
Can you tell us a bit about you and what you do?
I am full time artist with a small collection of textiles that are inspired directly from my original paintings. I grew up on the coastline of Fife where I began selling my paintings at the Pittenweem Arts Festival when I was a teenager. The sea has been a constant source of inspiration through the years, to this day. Every year I create original pieces that I showcase through exhibitions or have reveal dates on my website available for purchase, which is advertised through my mailing list along with Instagram/social media.
I work on many commissioned pieces each year and also offer a range of hand-finished prints made to order through my website. The commissioned pieces vary in appearance, whether abstract or very recognisable as a place. My clients might pick out a view they would like recreated in my style, or take inspiration from one of my previous abstract pieces. Several years ago I was encouraged and helped by an interior designer to create a line of textiles, and these have been incorporated within lots of domestic projects, as well as some commercial projects.
Can you tell us about some of the commercial projects you've worked on?  
I've been involved in the redesign of The Three Chimneys restaurant and The House Over-By on the Isle of Skye, where I provided a collection of fabric, artwork, and lampshades to the interior designer Joelle Reid, who paired my work with gentle textures and neutral tones.
I was commissioned by the five-star Radisson Collection Hotel in Edinburgh to completely redesign the penthouse suite. The rooms contained my bespoke artworks, fabrics, and upholstered pieces of furniture. I introduced another layer of interest with hand-painted lampshades, a mural in the entrance hall of the penthouse suite, and a hand-painted column featuring loose foliage, glittering with gold brushstrokes.
Photo Credit: LBA architects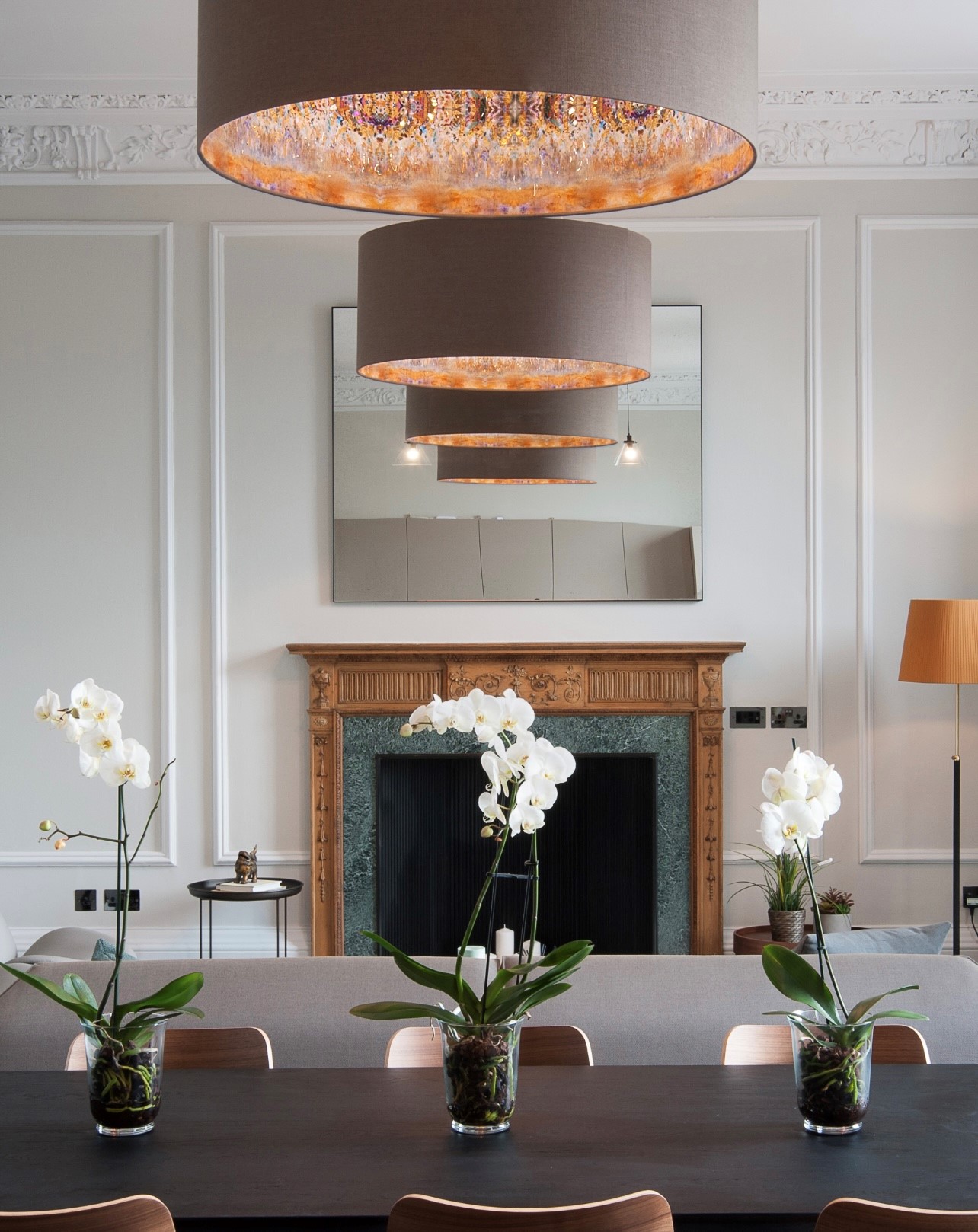 What led you to a career as an artist?
As a child I spent most of my spare time painting at the kitchen table or outside. My parents were always very encouraging and let me get on with it. This passion simply grew and it became clear that it was something I wanted to pursue as a lifelong career. I had a run of sell out shows, and this boosted my confidence that I could live fully from my art once I left school. It was a great comfort and I've never wavered with thoughts of another career. It's my passion to the point where I can't imagine a life without creating art. It's very much a part of me. I feel very lucky that my career continues to grow.
What led you to live in Edinburgh?
I've lived in Edinburgh for over eight years and rented several studios in various parts of town. It's been a very welcoming community where I have made great friends. Edinburgh has also been a great place for me to have my solo shows with lots of loyal and new clients each year, and also with a wave of people from all over the world every summer when the Edinburgh Festival takes place.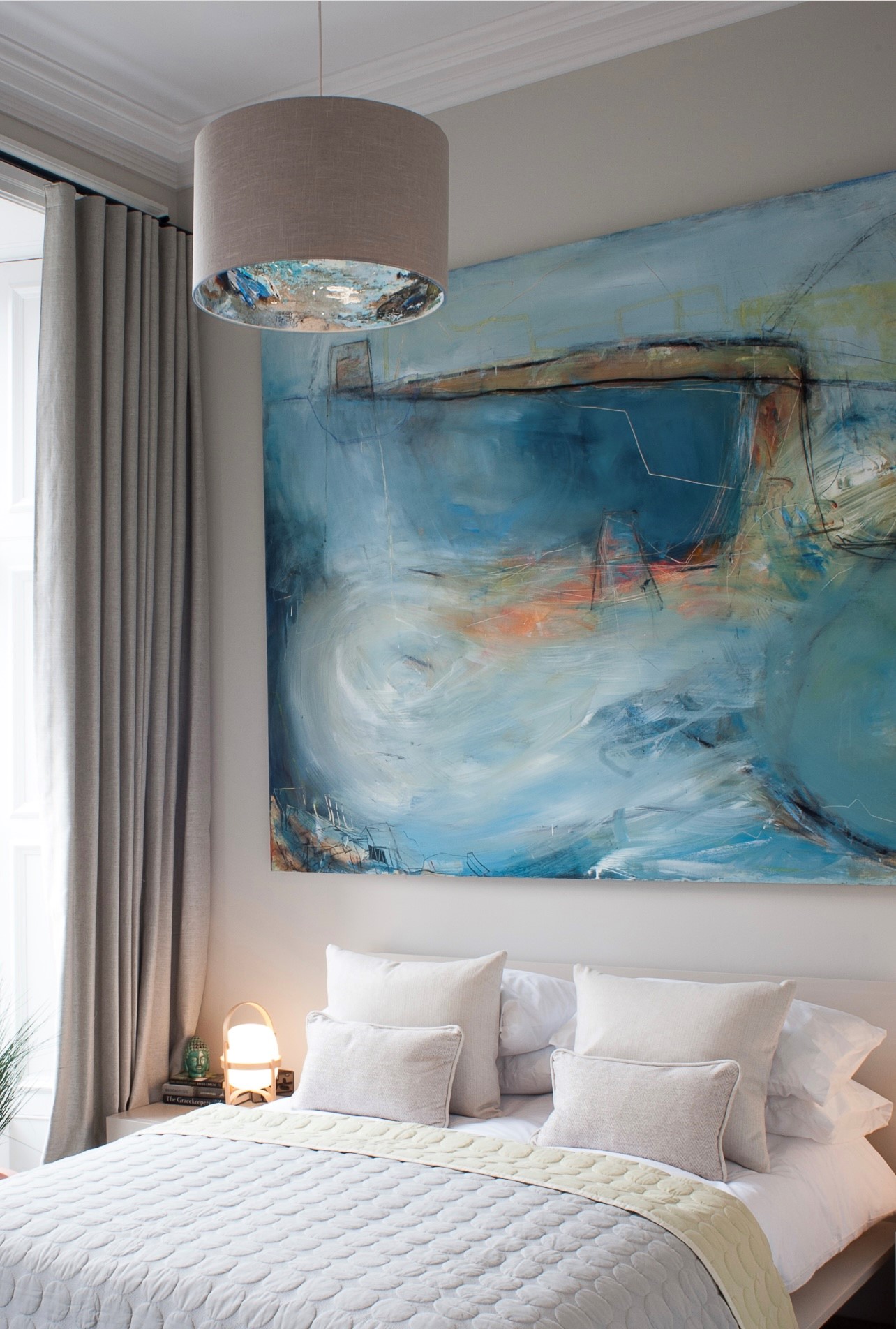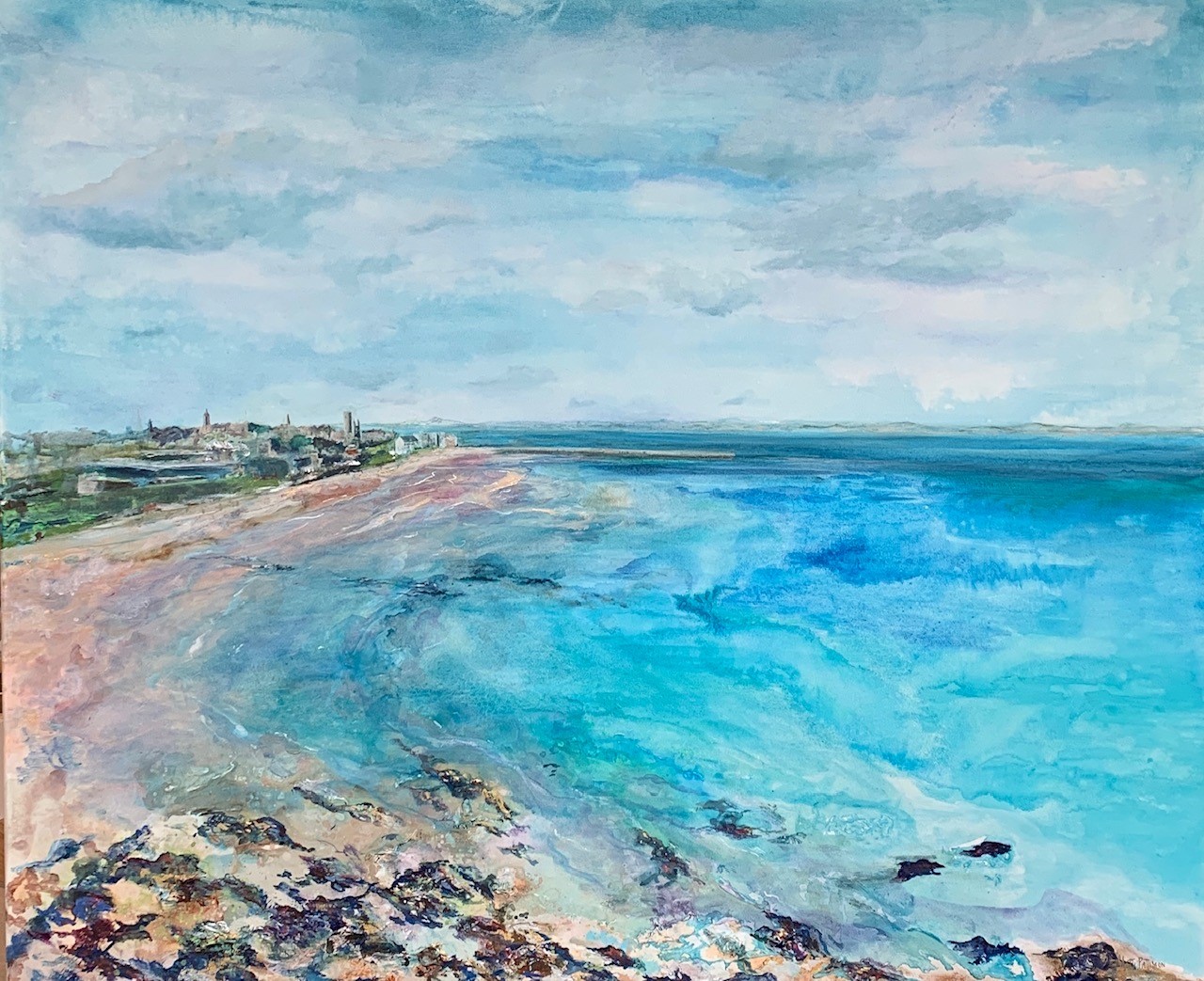 Does the area you live in influence your work?
My work isn't a representation of the city I live in, but it has been a great place for my career to grow and blossom. I have felt very supported and happy here. The surrounding coastline is where I gather my inspiration. Growing up in Fife, the coastline there has always been a great source of inspiration, particularly Pittenweem, Elie and St Andrews. Around Edinburgh I tend to be asked to paint the beaches at Tyninghame, Gullane, Yellowcraig and Seacliff.
What does a working day look like for you?
My working day begins with spending the morning with our baby boy George, whether it's at home or out for a walk or to the park. I do the morning 'shift' while my husband works on his job, which is composing music and editing. The morning time I spend with our son is a treasured part of the day, and then by the afternoon my husband takes over and I walk across town to Leith where my studio is. This is lockdown and COVID times so it won't be the forever plan, but our son was born just before the first lockdown so we haven't known the balance between parenting and work any other way.
My studio is a part of the Out of The Blue Drill Hall, where I have had a number of exhibitions. The main foyer is filled with natural light from the glass ceiling. There's a café there that's much-loved by the local community, and it's a welcome spot for my clients. I try to keep my studio time for mainly painting, but there's always lots of other things that have to be done. There are usually art and textiles orders to fulfil, which means lots of general sorting whether it's packing up art sales or prints, or hours of hand-painting the metallic layers onto a lampshade panel, and then more packing. I am currently packing my art to ship to New York, Norway, and all over the UK. With the big scale pieces I tend to need another pair of hands so I'll call on a friend to help. Painting and the pure creative element of my job is where I am most happy and I do get lost in the moment of the process. I feel incredibly lucky to really love what I do.
How has social media helped in your work?
Social media has been a major part of the global expansion of my clientele, which I am very grateful for so I'm constantly updating it. Someone from the other side of the world can tap into my studio to see the progress of my latest painting and get an intimate understanding of my art. I tend to get lots of messages and direct orders and commissions through Instagram. It's wonderful when my clients share or send photos of one of my pieces on their wall. Recently these pics have come from New York, Norway, Los Angeles, and all over the UK. Although I work alone in my studio, I feel an immense boost and incredible support through social media with my community of creators and my followers and clients.
As we've all been staying closer to home in recent months, what have been your favourite places to explore?
During lockdown, I've enjoyed exploring the leafy pathways that stretch throughout the city. I like to take the long but more scenic route via these pathways to visit Welch Fishmongers in Newhaven Harbour. My husband and I are enjoying learning to cook more seafood recipes and exploring the incredible ingredients that Scotland has to offer.
Another fun stop-off is the Edinburgh Sculpture Workshop  that's tucked away in leafy Newhaven. Sadly we can't go out to restaurants at the moment, but I'm loving following Lachlan Archibald, Edinburgh's shining star chef on Instagram, who is not only the Head Chef of Kitchen but started up Take-In during lockdown. At the moment he is mastering the most exquisite pies filled with the best of Scottish produce. Otherwise when we have the craving we order from Loon Fung, our local and delicious Chinese restaurant, which never disappoints.
Where are you most looking forward to visiting this summer when we can travel more freely again?
We're longing for lockdown to end so we can all see our family and friends more freely. I can't wait for gallery previews and design launches to start up again. Usually a bunch of us would go. It could be one of our friends' events of a new collection by an artist we haven't seen before, which is always interesting, then drinks and dinner afterwards. We would get all dressed up (which seems novel during these lockdown days) and have a wonderful time.
A holiday would be nice too. Oooh Italy is calling! I presume it will be a while before we can go further afield. Luckily there are lots of local spots here in Edinburgh that I can't wait to revisit such as Bodega, Lucky Yu Canteen for dim sum, Pickles on Broughton Street, Little White Pig,  Arusha Gallery, Moira Patience for her jewellery events, There is also the treasure trove that is Folly Antiques filled with with the most gorgeous antiques and the many gorgeous interior shops including Pad Lifestyle and the new Jessica Buckley showroom in the West End, which I am eager to visit after lockdown.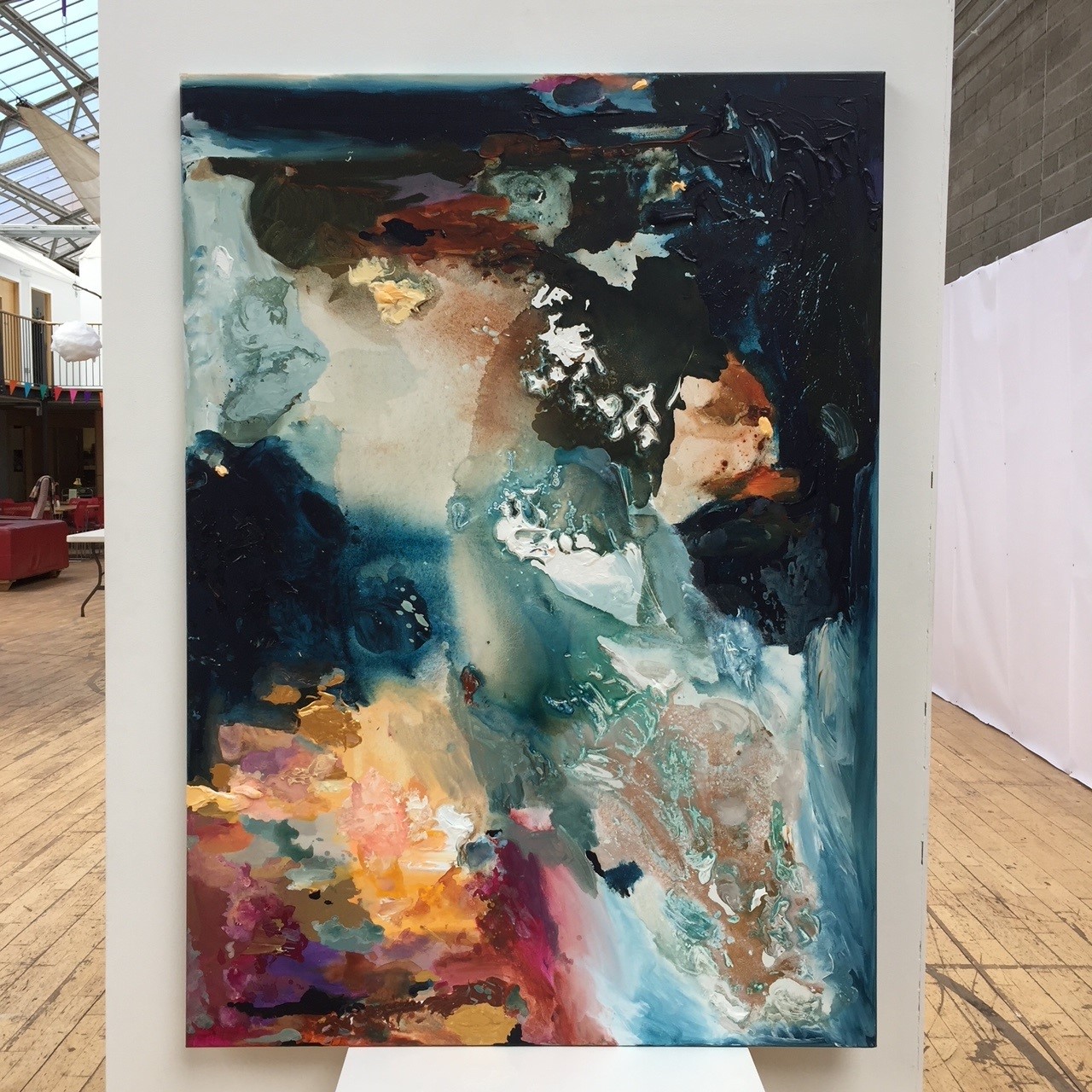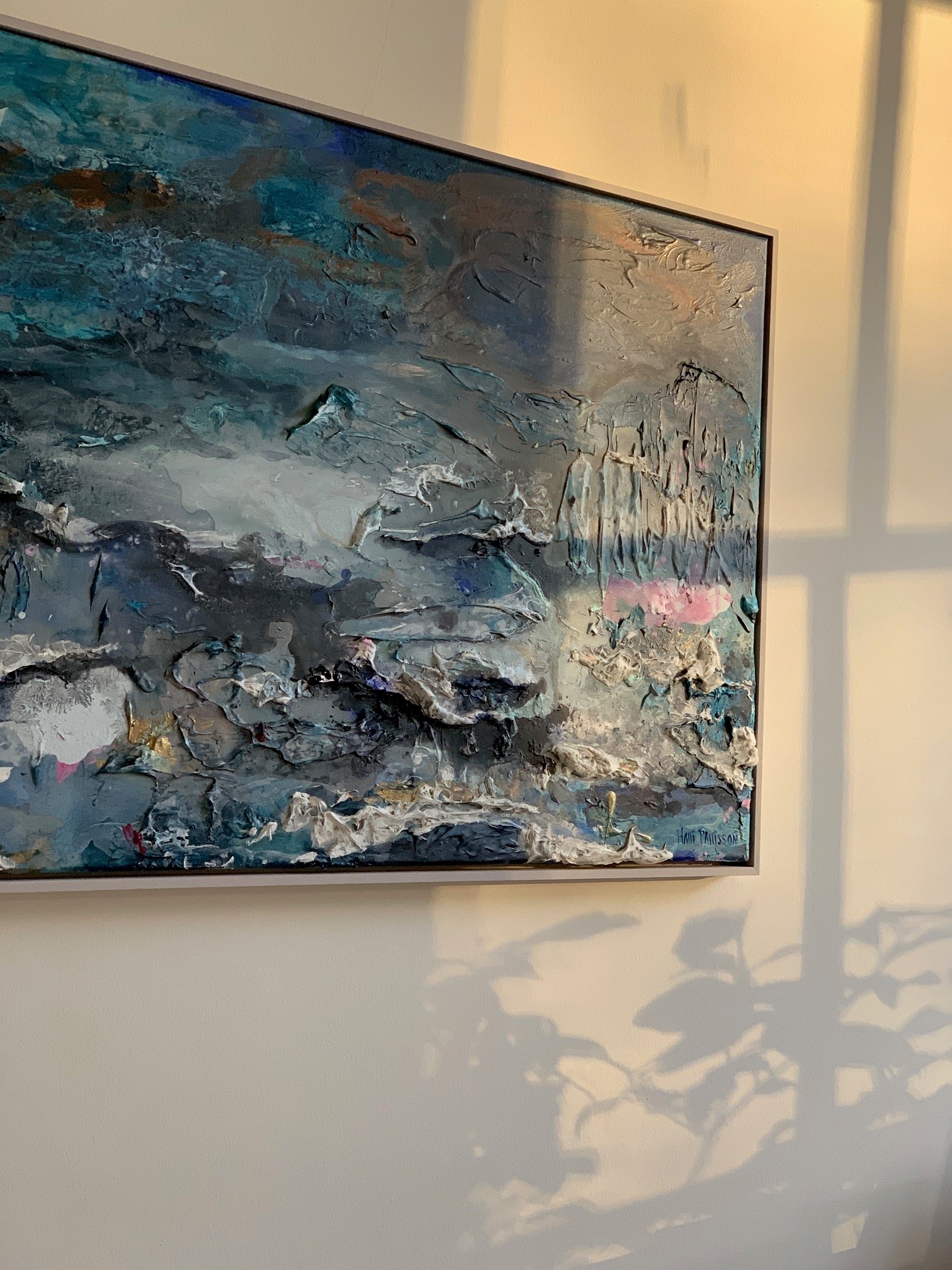 If you were to describe your dream home, what would it look like?
My dream home would be filled with light, unusual features and architecture, and, if we are lucky enough, with dreamy views. I like a home filled to the brim with colour, with art and beloved possessions all curated in a thoughtful way. I like to keep things that have a story and hold meaning to us. I love a mix of old and new, pairing treasures from the past with a bold pop of something as a contrast. Although we're currently in a flat, I would love a garden some day. I'm looking forward to eating outside with friends and family during the long summer days with something delicious cooking on the BBQ.
See more of Hatti's work here. www.hattipattisson.com
Follow Hatti on Instagram at @hattipattisson