Situated in the picturesque village of Beauly, just 10 miles west of Inverness in the Scottish Highlands, Campbell's of Beauly is a family run country tailor and outfitters. The Campbell's name is synonymous with quality craftsmanship and attention to detail. The business was established in 1858 and stayed in the Campbell family for 157 years until the last generation of the family retired, at which point Campbell's was taken on by John and Nicola Sugden, who relocated to Beauly from London.
John's background lies in textiles: his late father, James Sugden, had a lifelong career in textiles, including as Managing Director of Johnstons of Elgin, and was appointed OBE in 2011 for his services to the textile industry. (You can also read our 'In Conversation With' post with John's sister, cashmere designer Rosie Sugden, here.) Meanwhile Nicola worked in the travel industry where she had gained considerable experience in hospitality and customer service. "We met the owners of Campbell's of Beauly and proposed the idea of us taking on the business and within a matter of weeks the deal was done," she says. "We were moving!"
We caught up with Nicola to discuss how the couple's lives have changed since swapping London for the Highlands, and to talk about their vision for the business as it continues to evolve – including some exciting news as Campbell's of Beauly is about to expand.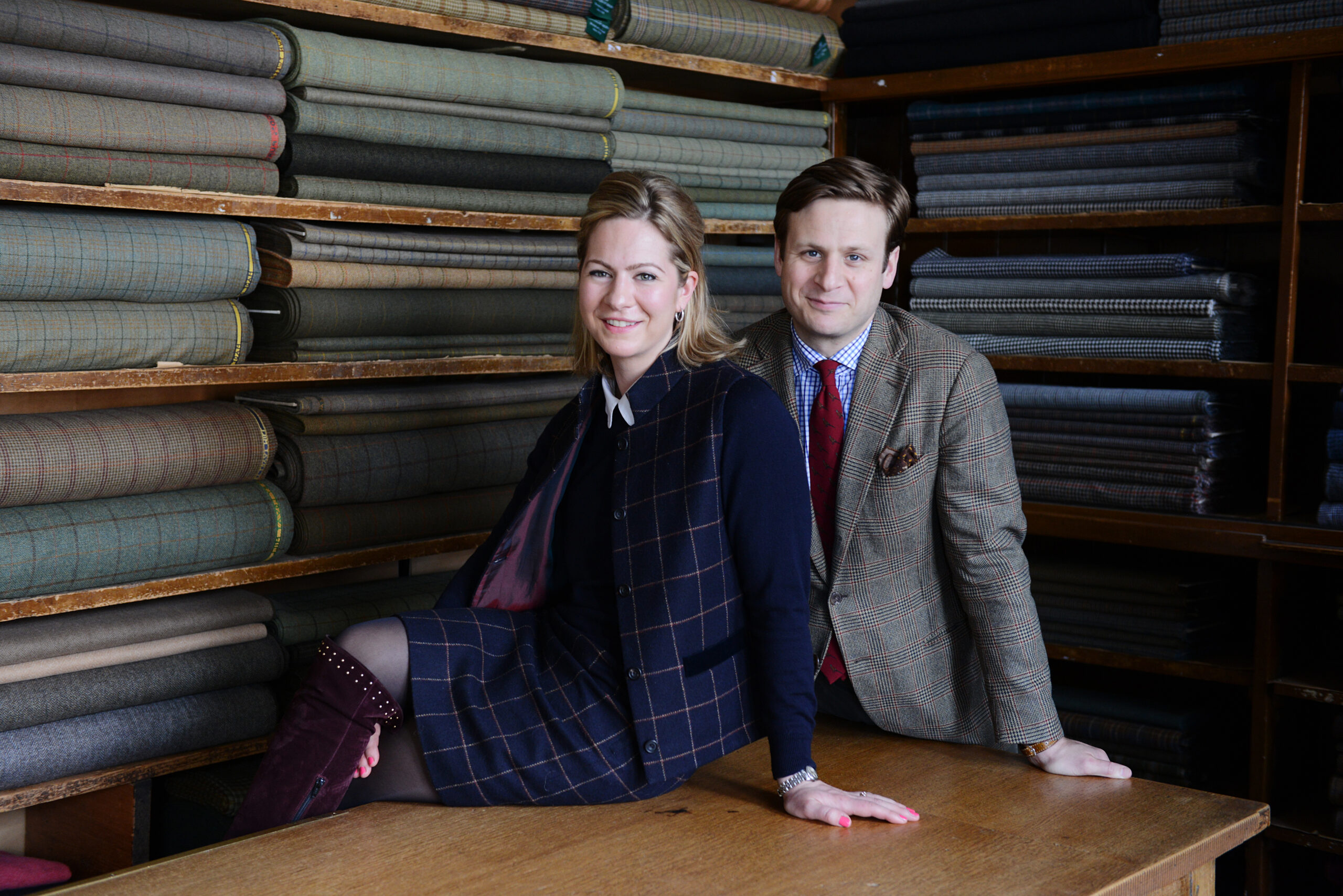 Can you tell us a bit about you and what you do?
I run the retail side of the business at Campbell's of Beauly. The last generation of Campbells retired in 2015 and my husband John and I have been running the business since then. We retail in store and online and my role involves managing and updating the website, and overseeing mail order and our customer service in store. We have a wonderful team of shop staff who I work closely alongside and depend upon.
What led you to a career in textiles?
My family used to run a mill manufacturing in Huddersfield but sadly this closed some time ago, so the influence was always there but it really is John and his late father James who have been the solid textile influencers in my life. After finishing my studies in Spanish and Business, I moved into the travel industry. I was in the travel industry for six years and then the move to Beauly was on the cards and I jumped straight in. I had the confidence in John; with his extensive experience in textiles along with my customer service and hospitality background, I knew we could be a good team.
The best way for me to learn was on the shop floor and the first three years were a huge learning experience, but quickly my knowledge and understanding grew and I am thoroughly enjoying this industry. There is always more to learn, but I now have the confidence behind me to back it. British manufacturing is a small industry and we mostly work with small privately-owned and family-run mills that have synergy with us.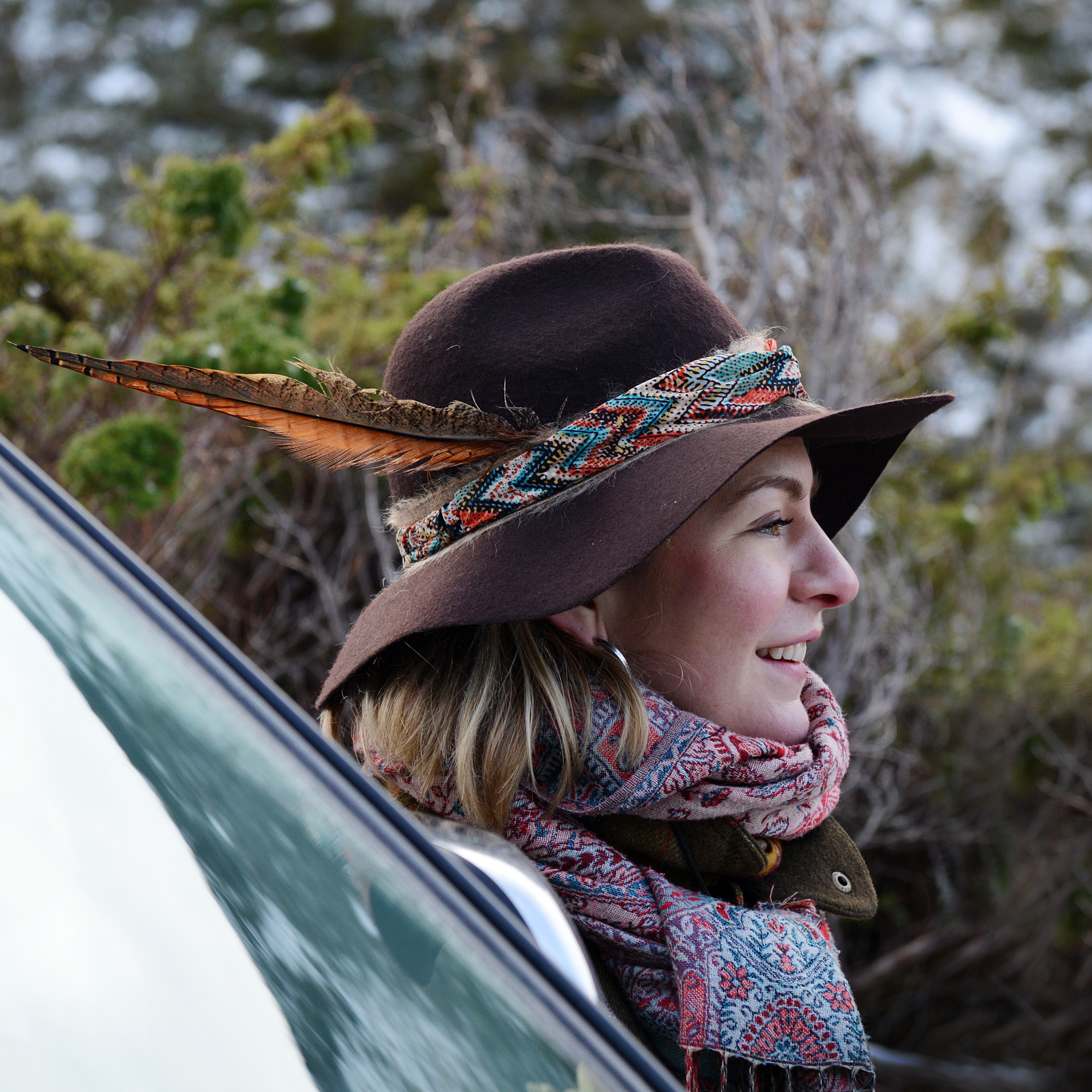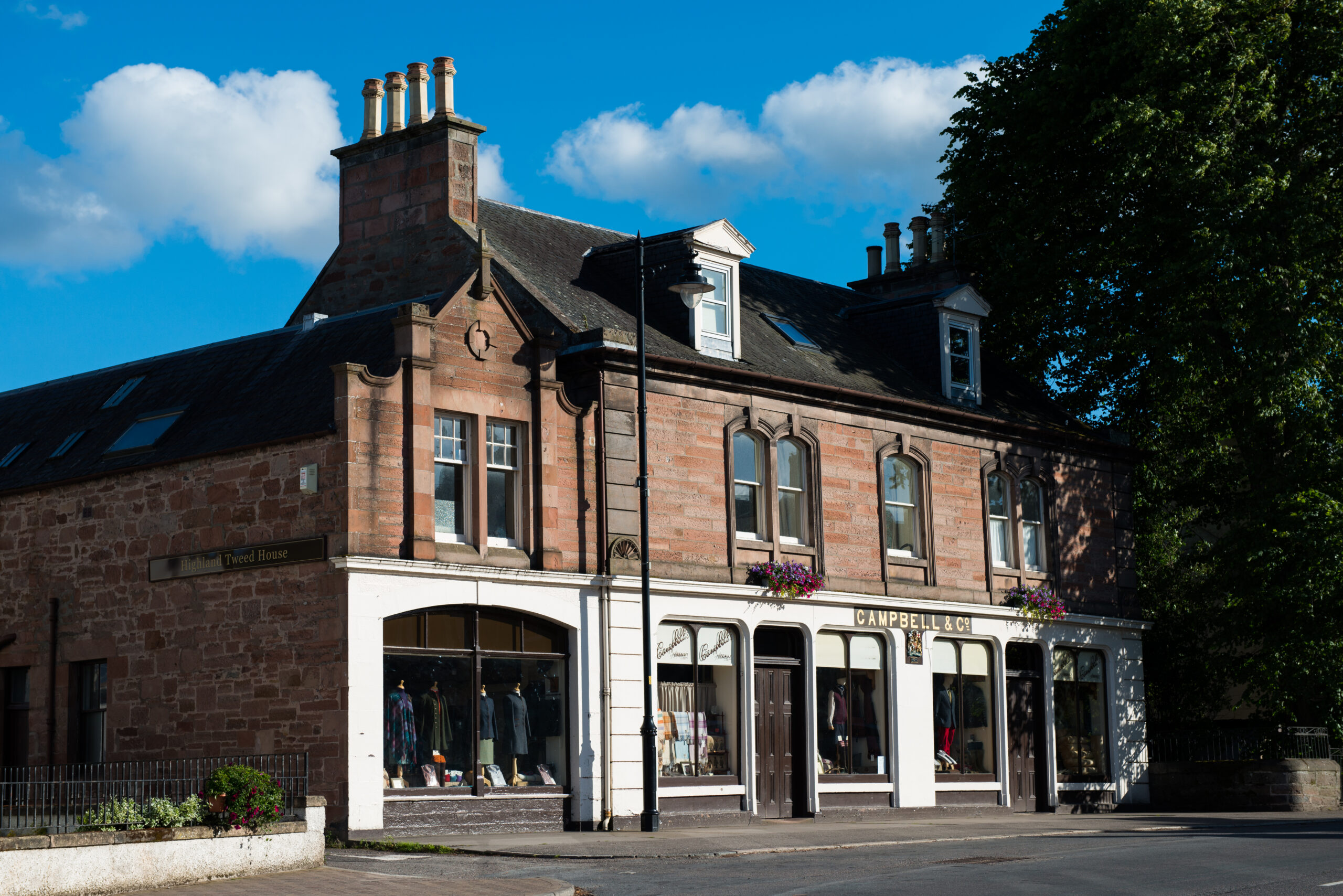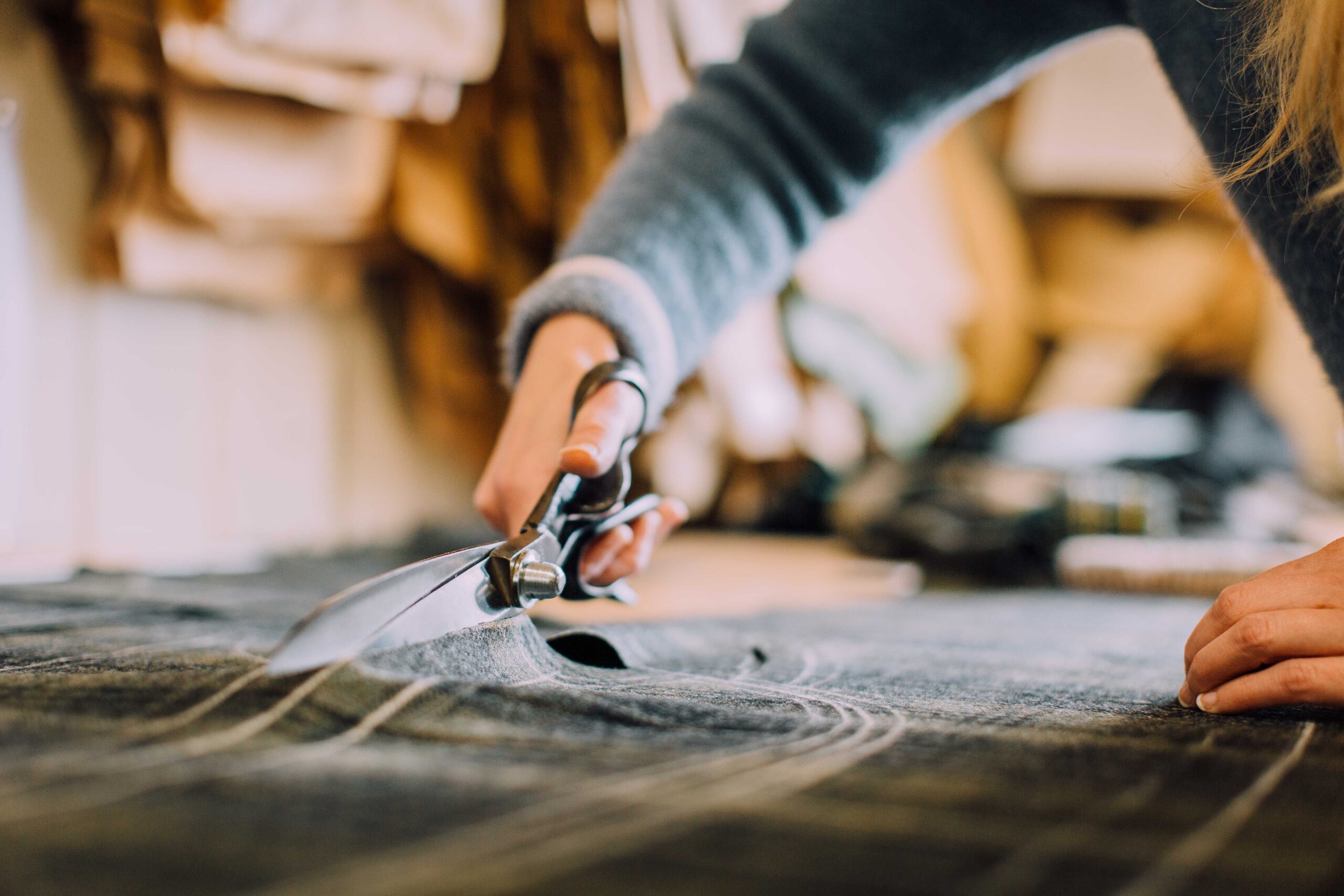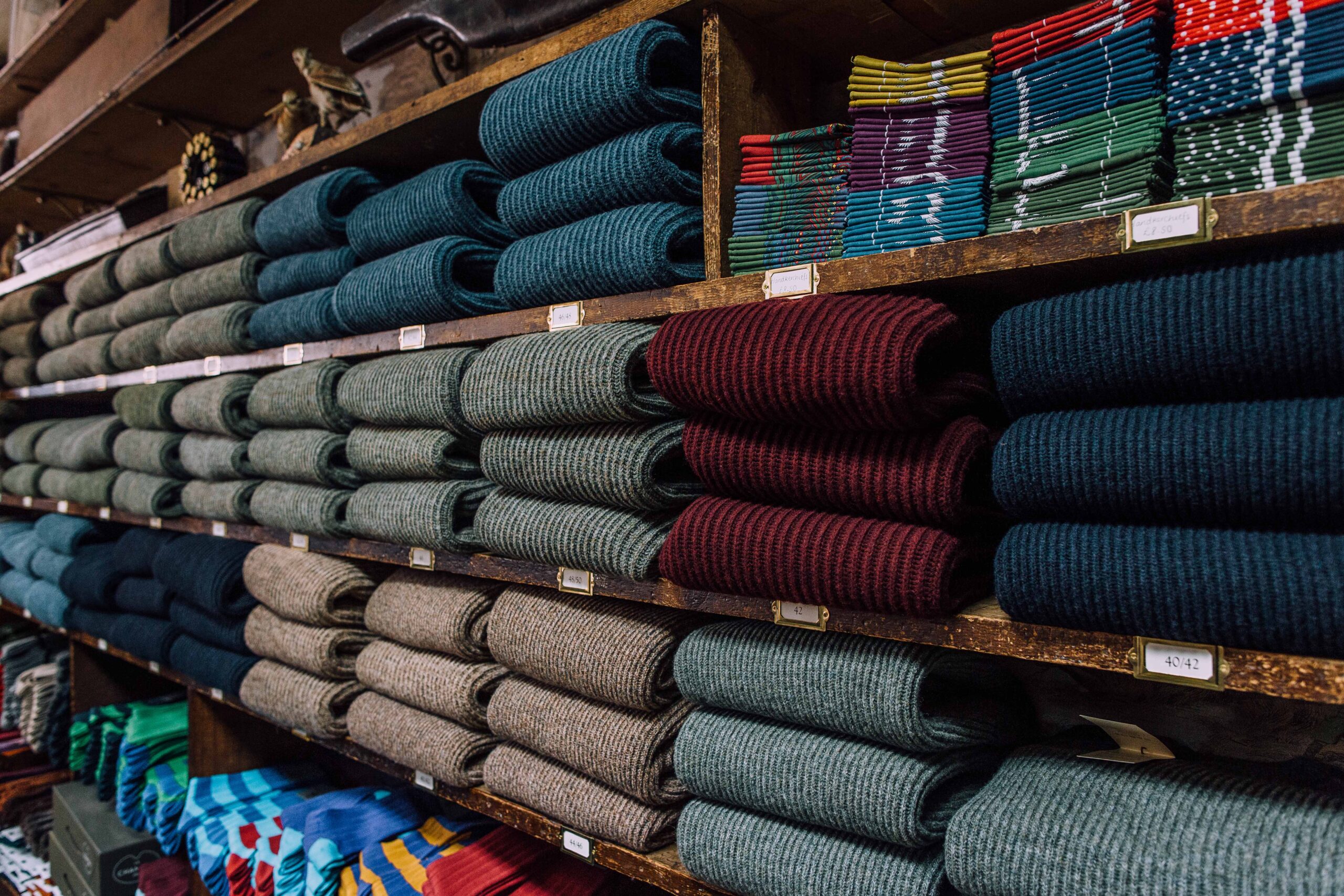 Tell us a little about your transition from London to the Highlands.
John and I were living in London and wondering how we could move to the countryside and find employment when this opportunity arose. Beauly is close to my heart as I grew up in the Highlands and there are many special aspects to the Highlands that tug on your heart strings. Many who grew up here are drawn back to the natural beauty, surroundings, and charming close knit community.
We moved in to the flat above the shop and really were able to get stuck in and hands on immediately. John's parents were in the Borders, where the majority of our knitwear is manufactured as well as some tweed mills that we work with, and we were able to make the journey to visit suppliers as well as catch up with his family. The tie with the Borders has grown since then with more and more of our suppliers based there, and we are now closely tied with Dumfries as John is a co-Chair for the Sewing School at Dumfries House. The sewing school trains apprentices and our long term plan is to be able to provide employment to the graduates.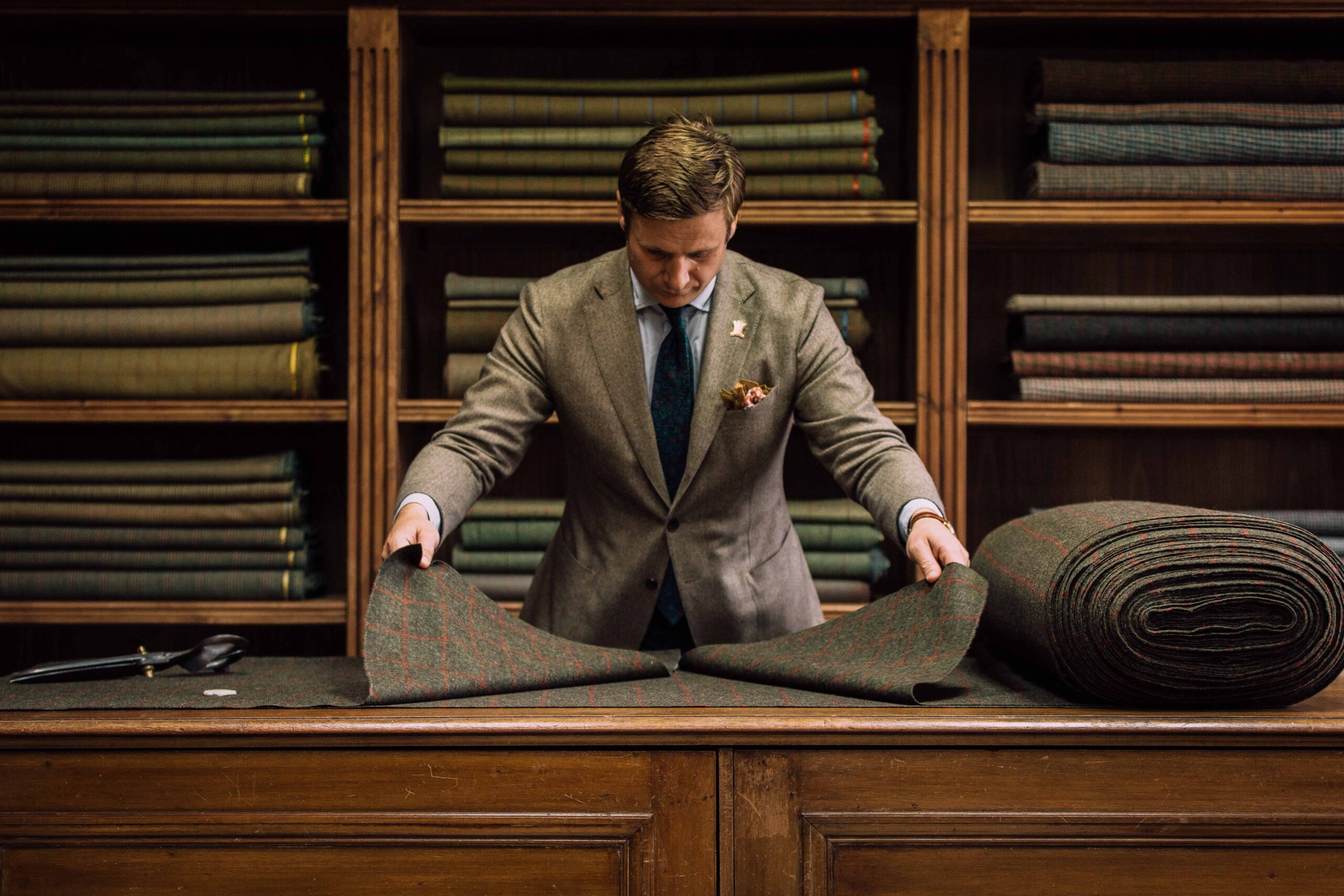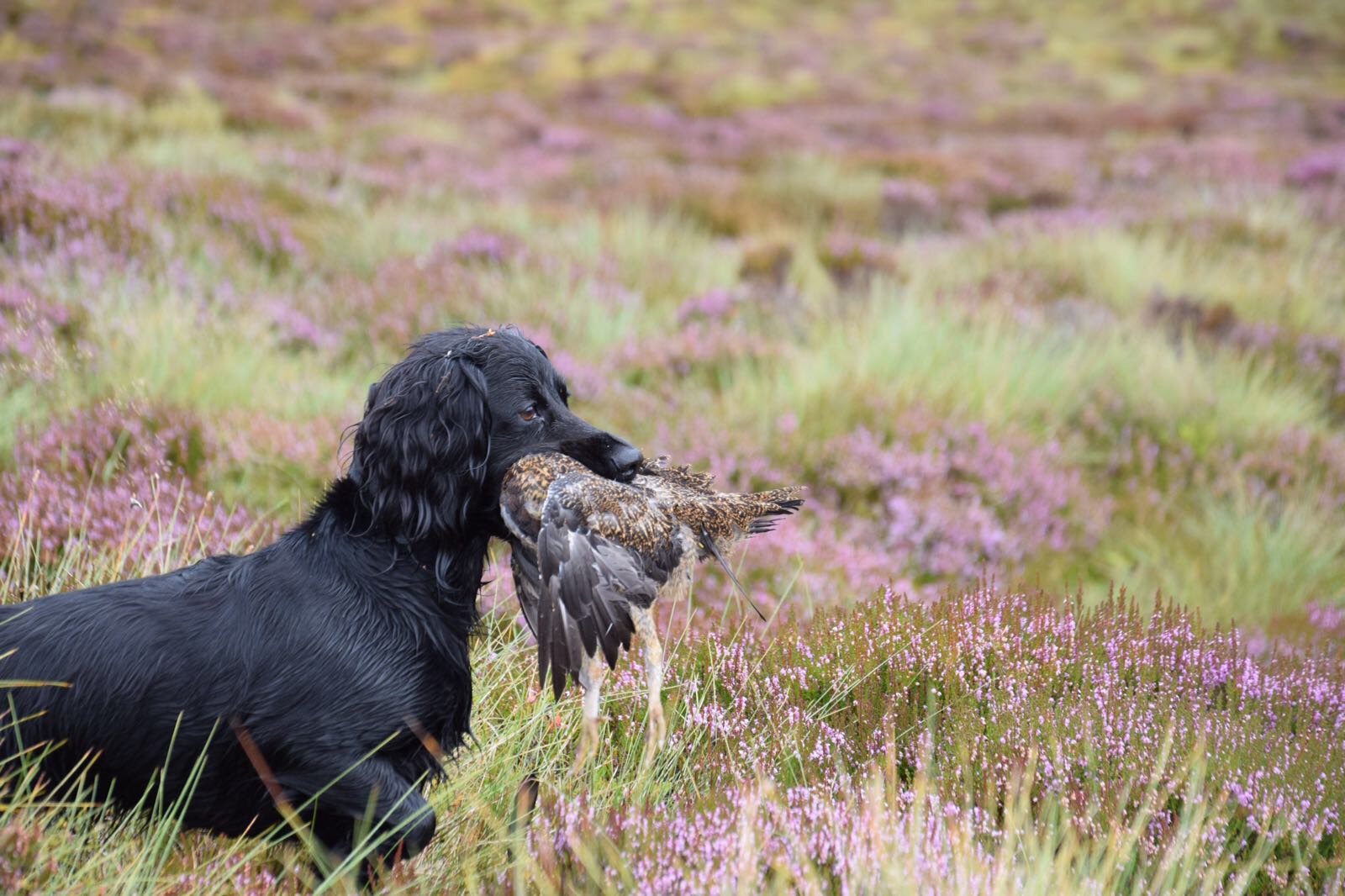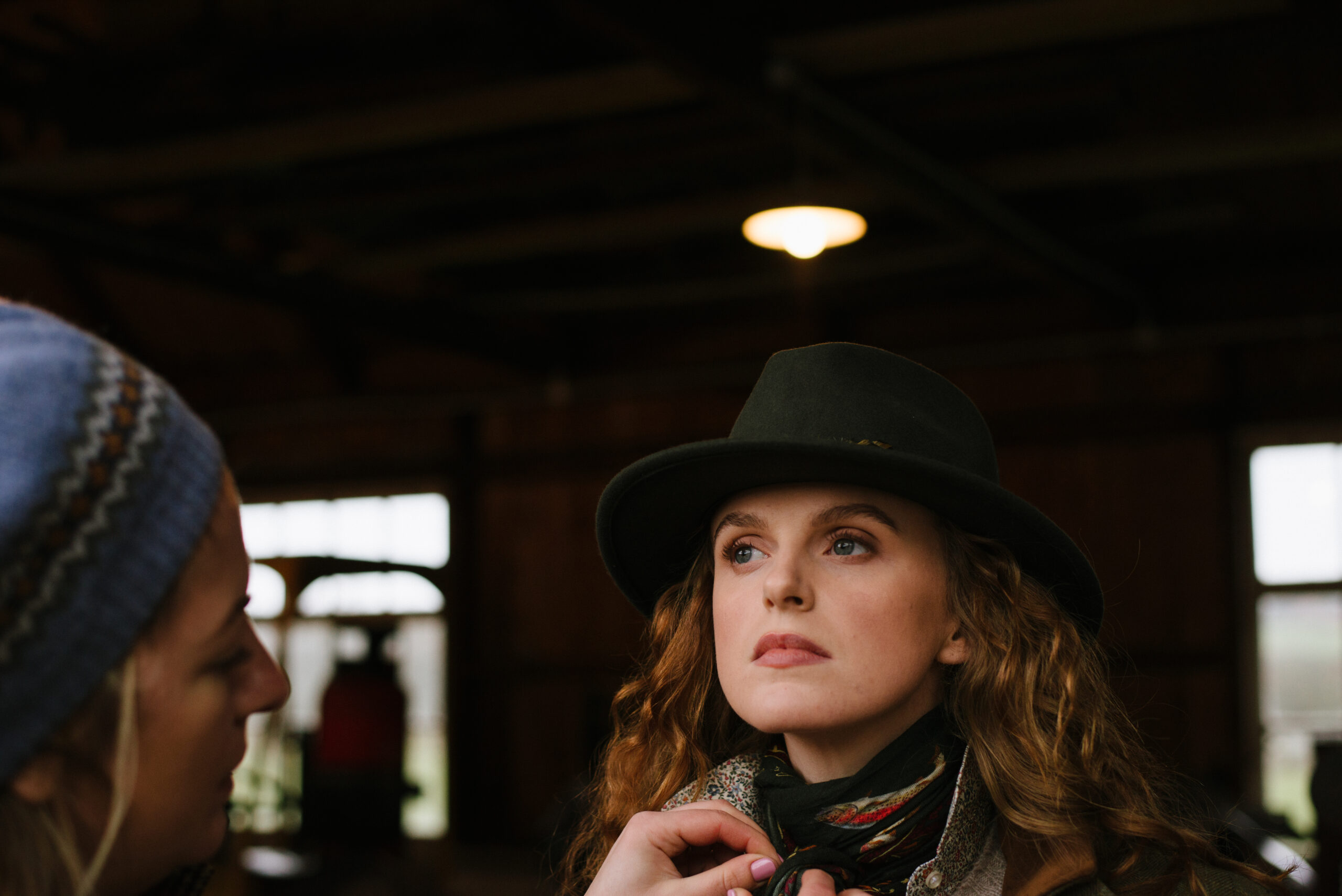 Does the area you live in influence your work?
Absolutely, we live in the countryside and are engrossed in the shooting and fishing lifestyle due to both our location and our customer base in the shop. So from a sporting perspective there is a natural link and influence. John really enjoys country pursuits and from my perspective, we have two cocker spaniels, Islay and Sula, and they are an influence on us. In fact, we launched a bespoke greeting card range with Fife based artist Sophie Murray characterising Islay and Sula. It's been a bit of fun that has been really well received. However, my greatest inspiration from the area we live in is colour. The heather, hillside, gorse, sunsets, fog, bracken, seascapes – they all influence the colours we choose in our knitwear and sometimes it gets rather tricky selecting the range!
We love your lifestyle photography on social media – where does your inspiration come from?
While trying to promote our products and brand, ultimately what we want to convey across our social media is an insight into life in the Highlands. Many of our customers are based in the city and retreat to the Highlands on high days and holidays, so we try and keep that nostalgia alive with our photography, be it of excursions in the local area, lifestyle, mill visits, or photos of Islay and Sula.
What does a working day look like for you?
We have two young daughters and my day starts with getting them up and off to our lovely childminder in the village. I arrive at work about 30 minutes before opening so I have time to check any deliveries or notes from staff with updates from the day before. Once the shop is open we usually focus on web orders, replenishment of stock, deliveries, and our lovely customers. One of the things that I love about retail is you never know what the day will bring; each and every one is quite different and you never know who is going to walk through the door. It keeps you on your toes!
At the moment I have a great work/life balance as I work three days a week, getting as much done as I can in the shop, and then I can enjoy the rest of the week with my two girls. In the evenings I love to cook new recipes, try my hand at some gardening – mostly strimming as it doesn't involve too much finesse! It's also a great stress reliever.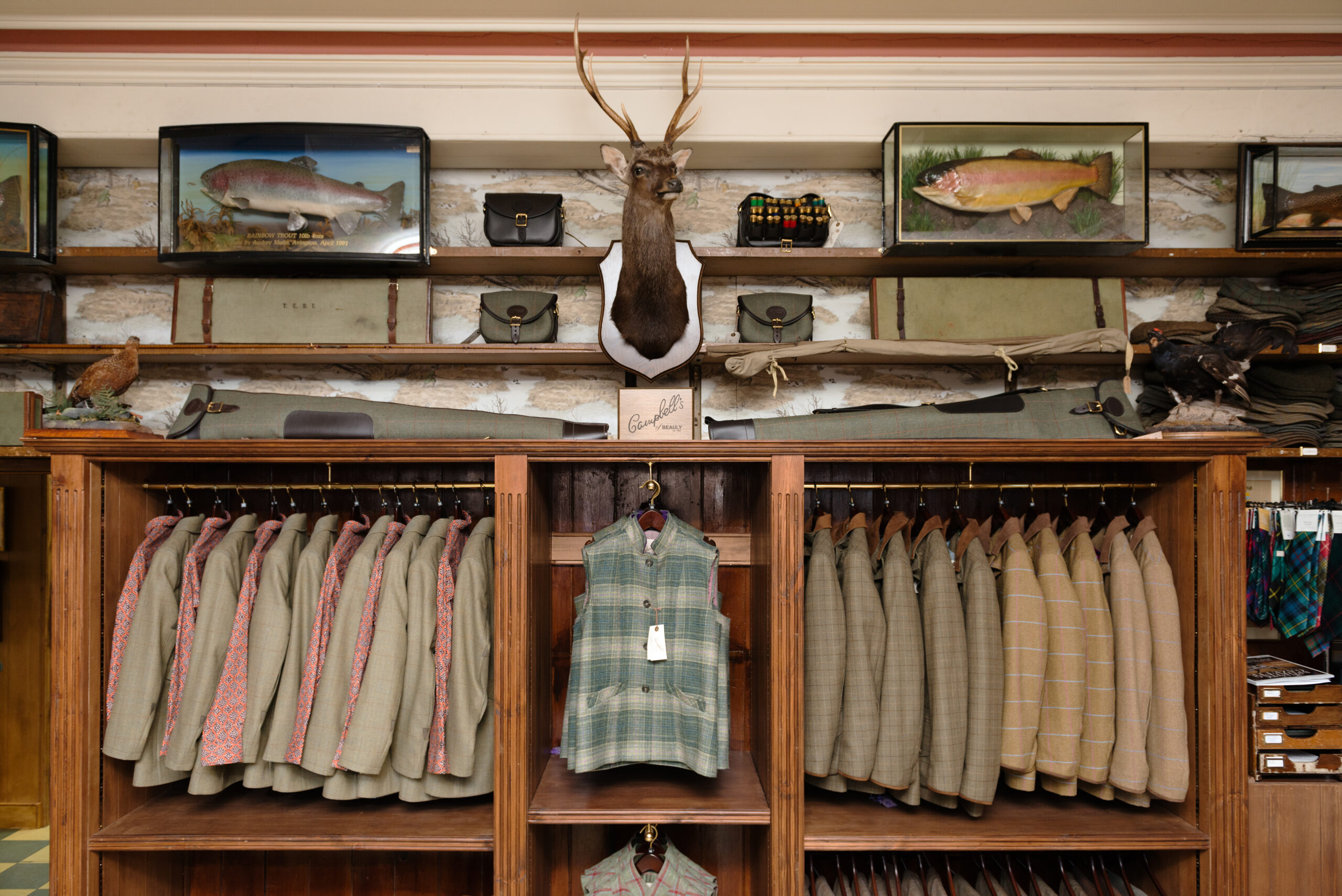 Any plans for the business going forward?
After a difficult 18 months we are slowly building back up to where we were. There have been some tough times but the last 18 months has forced us to focus harder on our website and social media for driving sales. After some investment in targeted advertising on social media, Covid-friendly photoshoots with models ,and professionally designed e-newsletter campaign templates, we have seen a great uplift in sales in this area and it has been a great positive for the business, so moving forward we want to keep up the momentum.
Some very positive news – and you heard it here first! – is that we have decided to launch a second store, in Dornoch, which is opening next month. This is with a view to growing our business and profile, and reaching a new targeted audience in the Dornoch area. Dornoch is a very special town that's packed with specialist shops, restaurants, a five star hotel, a private members club, and the most wonderful beach. It has also holds a personal note for us because we were married in Dornoch Cathedral in 2011. The North Coast 500 has been phenomenally successful and we felt confident to be on the map twice, both in Beauly and Dornoch.
You have a Royal Warrant and that is no small achievement – what does that actually mean and involve?
Royal Warrants are awarded to companies that have worked with one of the Royal Households for a sustained period of time. We're currently privileged to work with two of the households, and in particular, have been working closely with Balmoral for many years. The business was awarded our current Royal Warrant to HM The Queen for our tailoring services in 2017, and we are proud to display The Queen's coat of arms above our front door in Beauly. Historically we have also held two other Royal Warrants, those being to HRH The Duke of Windsor when Prince of Wales in 1965 and thereafter to HM The Queen Mother in 1975, in both cases as tweed mercers.
Where have you most enjoyed visiting now we can travel more freely again?
We recently spent a week on Lewis in the Outer Hebrides. John and I have visited a couple of times to visit Harris Tweed Hebrides and buy some tweed for the shop. This time we went to Uig with my family and it was breathtakingly beautiful; the beach there is spectacular – when the sun shines! En-route to the ferry we stopped at our favourite place, The Seafood Shack in Ullapool, for some scallops and lobster. We have missed eating out so much. Despite enjoying cooking, I am somewhat over it at the moment!
We also took a trip to Melrose in the Borders to visit family and go to the Faldonside Farmers Market. It was a beautiful sunny day and plenty of friends and family came to the market too, so it felt like the first big social event we had had in a long time and it was most welcome.
Any local businesses and/ or professional services would you like to highlight in your area?
The Bakery Inverness: hands down the best sourdough: world class and perfect texture. I like the original, but they also do an excellent 'porridge' sourdough. It's available to buy at Corner on the Square. See more info on the bakery on Facebook and Instagram.
The Black Isle Dairy: a long standing favourite of mine. Their products are available at markets and local shops, but to get the true selection you need to visit their honesty shed where you can stumble across new creations like Chocolate Orange Jaffa, Amaretto, or Berry Yoghurt flavour. Since lockdown we have visited much more often and with this good weather it's an essential!
Corner On The Square: as mentioned above, this foodie treat is in Beauly. With their excellent wine selection, quinoa crisps, speciality products, the deli counter with prepared quiche, pork pies and scotch eggs (John's favourites), you simply can't leave without a full basket. During lockdown COTS have come into their own and provided the community with an extraordinary service. Jacqui and her team added all the fruit and veg and key products to their website and set up an order and collect/delivery system. The produce is notably higher quality so the fruit and veg not only taste better but last longer. Last weekend we were able to order pizza takeaway which was exciting as takeaways are few and far between up here.
John M. Munro: Munro's butcher has always been my go-to for meat and eggs but during lockdown they have encouraged customers to place orders in advance. This has made me plan ahead with my food prep and get back into my slow cooker. It is marvellous: find a good recipe, order a kilo of mince, lamb shoulder, rolled pork or a whole chicken, and whack in a load of spices and some liquid: 8 hours later and hey presto you have a scrummy meal and you have batch-cooked a few freezer options for a later date.
The Storehouse: The Storehouse have also created a wonderful click and collect/delivery service. Quintin and Michelle have adapted their business model and helped many households in the wider community. We have very much enjoyed their prepared food range, The Highland Cook House, for evenings when it has been a busy day with kids and web orders. John offers to cook dinner and off he pops to The Storehouse to pick up a delicious dinner for two. My favourite is the Wester Ross Salmon Fillet.
The Seafood Shack: as I mentioned earlier, this local seafood takeaway is perfect for a fresh seafood lunch. It's outdoor dining so good weather is imperative. Run impeccably by two local ladies and their team, you walk off the high street into a little seafood oasis with fresh food cooked in front of you. The menu is small and changes daily. We highly recommend the half lobster with dilled potatoes, crab linguine, and the tempura haddock wrap.
IV10: newly opened and worth a drive on the Black Isle for coffee, lunch or dinner as the atmosphere is fantastic. A strong design element is at play here and it feels very comfortable. We went recently for John's birthday and it was jam-packed which was great fun. The wine menu is extensive and carefully put together by the owner who was able to tell us about each bottle we picked. The menu has plenty to choose from and changes from day to night and on a Sunday. We often struggle to decide as everything sounds great but the rib eye went down very well. Reservations are necessary. IV10 is also a deli so there are lots of delicious things to purchase and take away with you.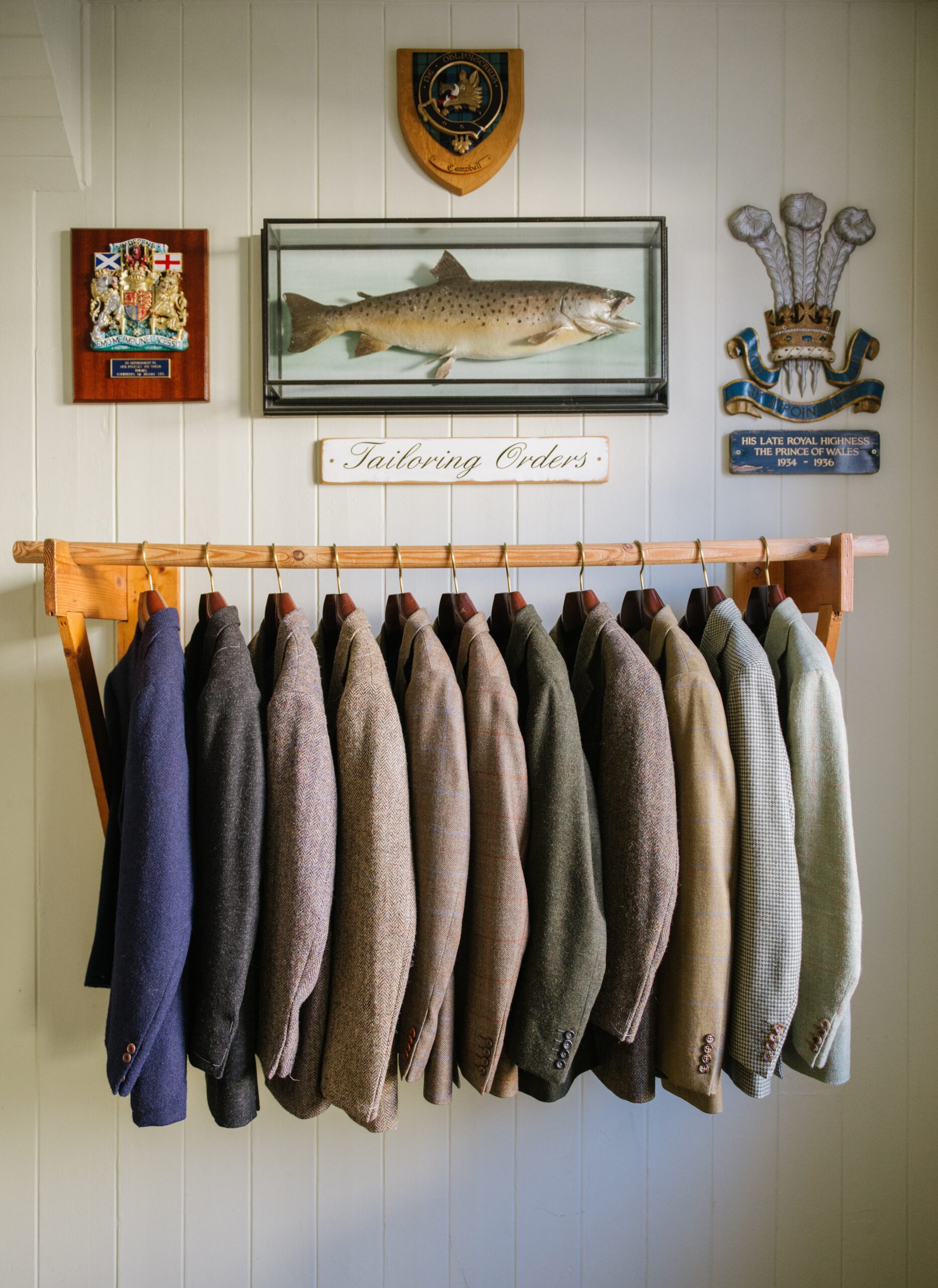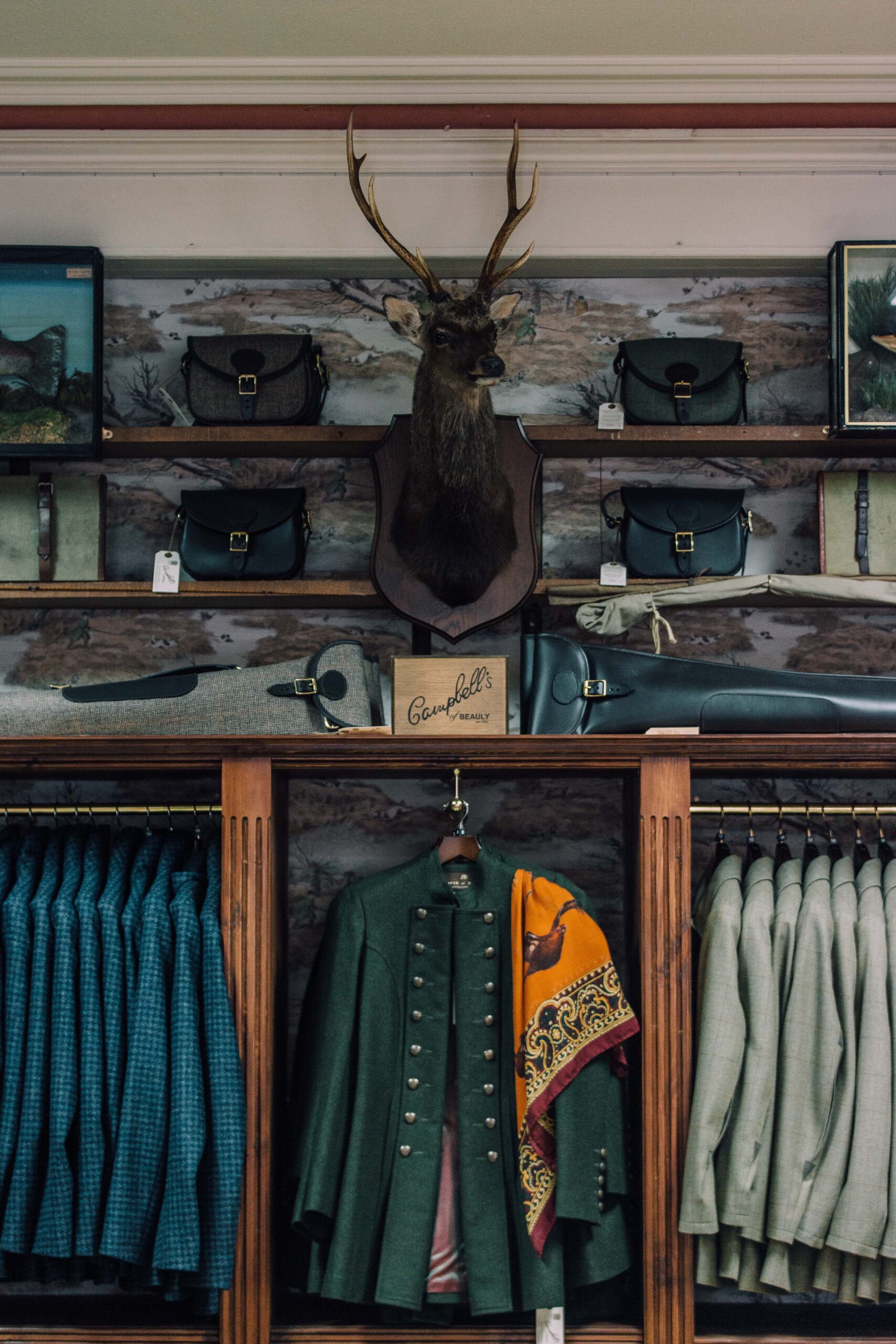 If you were to describe your dream home, what would it look like?
I think it would be a small finca, a Spanish farm, tucked away in the hills with fantastic views so I could sit soaking up the warmth and vitamin D and enjoy the sounds of the countryside and watch the sunsets. Having studied Spanish, this country has always been close to my heart and is the go-to destination for me for beach, city, culture, and tapas.
Photo Credit: BASIA WIRIGHT PHOTOGRAPHY