Selling with Paton & Co
Our experience, property presentation and technology promise great results
At Paton & Co, we firmly believe that our focus on your marketing campaign will generate the most interest in your property and therefore naturally achieve the highest sales price. We have invested heavily in technology to assist us with your marketing campaign to ensure that we give you the best possible service. Our innovative channels to market, combined with our years of experience, enables us to offer accurate and honest advice along with a campaign that's sure to grab attention.
Paton & Co also believe that good communication and customer service is essential. Yes, technology has many merits, but it remains important to build good relationships through listening and talking to our clients. While email and messaging are essential tools, so is picking up the phone to talk things over. We aim to deliver outstanding results, and we also want to form long-lasting relationships with our clients. So, what do our campaigns involve?
1. Excellent Online Portal Exposure
One of the easiest ways for an estate agent to save costs is to reduce the number of internet portals they advertise on. At Paton & Co, we have decided to go the other way. We have made a conscious decision not to have a high street shop with the overheads this brings. Your buyer isn't looking on the high street: your buyer is searching for a property online, so we are spending more money on advertising portals. At Paton & Co, we will list your property on all four leading property portals: Rightmove, PrimeLocation, Zoopla and OnTheMarket, as well as several others including S1Homes, Boomin, CastleList and The London Broker. While other agents believe being on one or other is enough, we want to reach your buyer regardless of their browsing preference.
We also spent time designing how your listing appears on our website and invest heavily in its promotion, ensuring that the home of Paton & Co is also the perfect place for a purchaser to get to know your property.
Return to top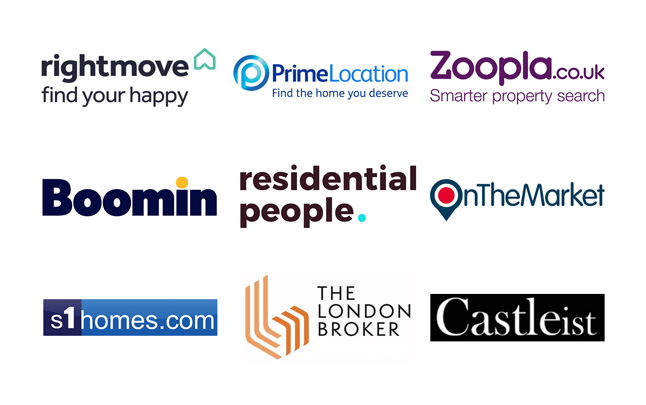 2.
Clear Communication Schedule

The quickest ways for an estate agent to lose the trust of their client is by not communicating with them. No one wants to be left hanging on, wondering what is happening with their property. We get it. And we don't do it. At Paton & Co, we set in place a marketing strategy at the outset that includes a schedule of communication. This means if we're having a conversation with you about the asking price, you know why we're having it. Knowing exactly where you stand in the marketplace enables you to make informed decisions about your sales campaign. It is all about the numbers, and we understand this.
Return to top
3.
Stylish Interactive Brochures

Gone are the days of receiving a traditionally printed brochure through the post. Our brochures can be downloaded instantly and saved to any mobile or tablet for viewing, and can also be sent by text, social media, WhatsApp or email. Instant information at your fingertips.
Return to top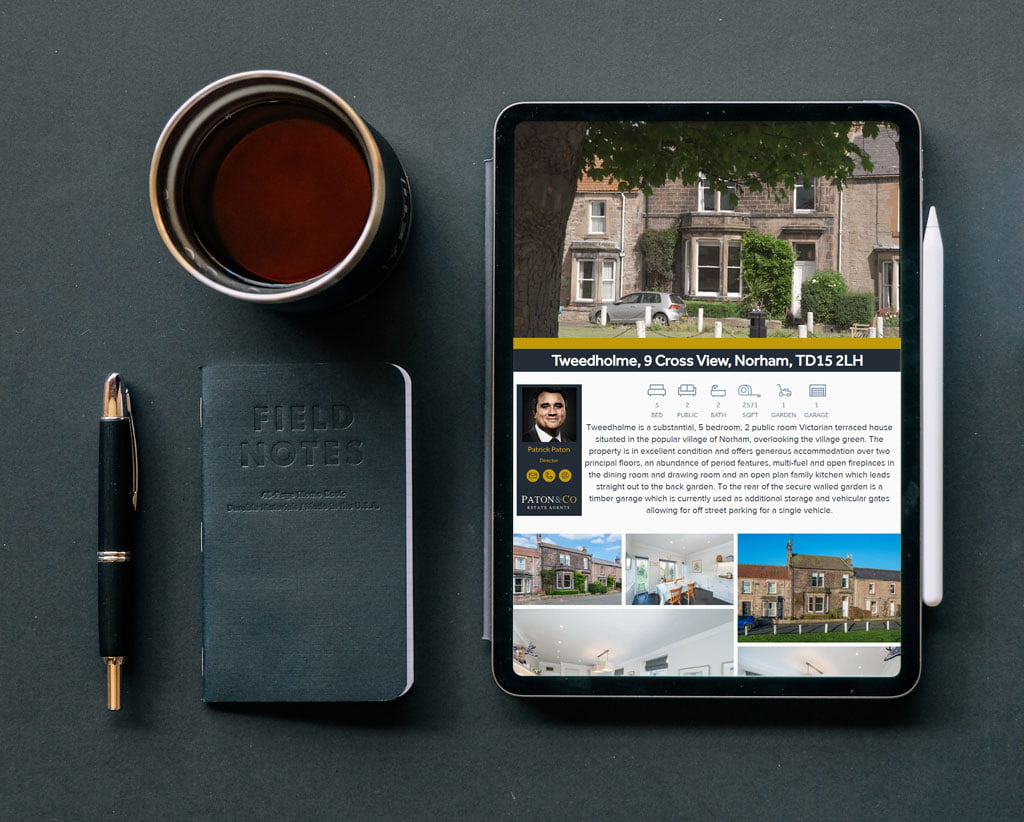 5.
Good Old Honest Advice

We're not going to woo you with unrealistic figures just to win your business, nor undervalue your property simply to achieve a quick sale. We will provide honest and accurate advice using years of experience, backed up by data and our intelligent software. This professional approach allows us to give your property the very best chance at a successful sales campaign should you decide to come to market.
Return to top
6.
Giving your buyers more

We love sharing our personal knowledge of locations with potential buyers, as we know this enables them to see not just your property but also the home and lifestyle that could be theirs. We research and understand every location we sell in, but no one understands an area better than the person already living there, so we'll take the time to discuss the location with you when bringing your property to market. This way, we can add your local insights to our own.
Return to top
7.
Immersive 3D Walkthroughs & Video Tours

Video tours and 3D walkthroughs, sometimes known as Matterport Tours, enable your buyers to virtually walk through a property. As we've all grown more adept at virtual meetings over the past year, so has the virtual home tour taken on a new level of importance for buyers. The team behind this technology have a great eye for detail, creating immersive viewing tours that make it easy to explore each space from the comfort of your sofa.
Return to top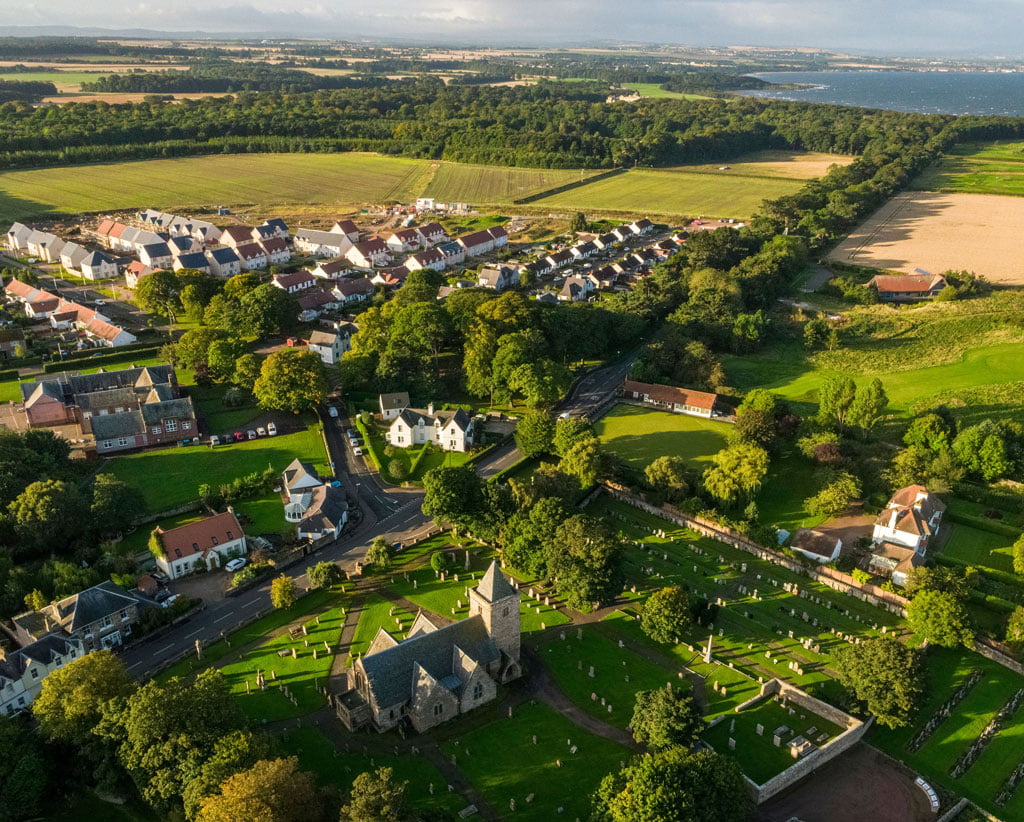 8.
Stunning Drone Imagery

Seeing a property from ground level is not always enough. Sometimes you want that bigger view and that wider context. We use drone footage to reach new heights and angles of the properties and gardens we are selling, giving buyers a better perspective – literally a bird's eye view – of each property.
Return to top
10.
Database Property Matching

We will match your property with our database when we bring it to market. We have a number of registered buyers all eager to see what Paton & Co are going to be selling next, so this is a great way of matching up the perfect property with the right buyer.
Return to top