Scottish knitwear designer Rosie Sugden launched her eponymous label in 2011 after graduating in Knitwear Design from Northumbria University, and her cashmere accessories line has grown since to include turbans – the design that started it all – alongside beanies, socks, scarves and snoods, as well as a new baby collection that was launched last year. Rosie's fashion-forward designs have garnered a loyal following: last autumn/winter, in the midst of Covid uncertainty, Rosie was busy manufacturing orders for the likes of Bloomingdale's, Anthropologie, and Fortnum & Mason, along with independent boutiques up and down the UK, while her website sales were booming. As she says: "I found that products kept selling faster than I could make them, which was a great problem to have."
Rosie's collections aren't simply about must-have accessories, however. Rosie set out to design and manufacture long-lasting products as an antidote to the throwaway clothing mentality, while also showcasing the craftsmanship of the Scottish textile industry – all the cashmere used across the collections is made in Scotland. We caught up with Rosie to chat about her business and the inspiration behind her designs, and also to discover some of her favourite places in the Scottish Borders, where Rosie lives with her husband Fred, and their two pugs, Daphne and Edith.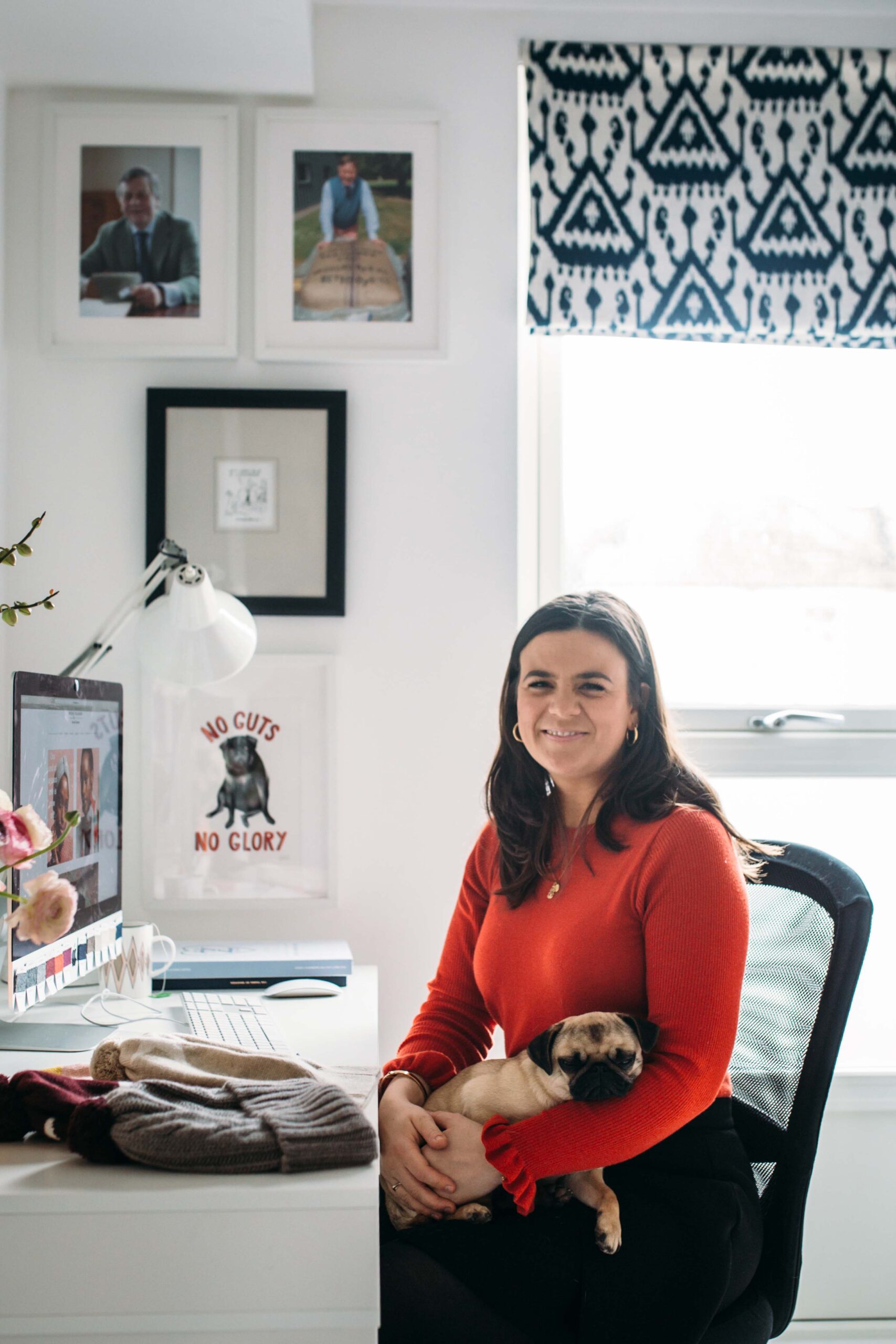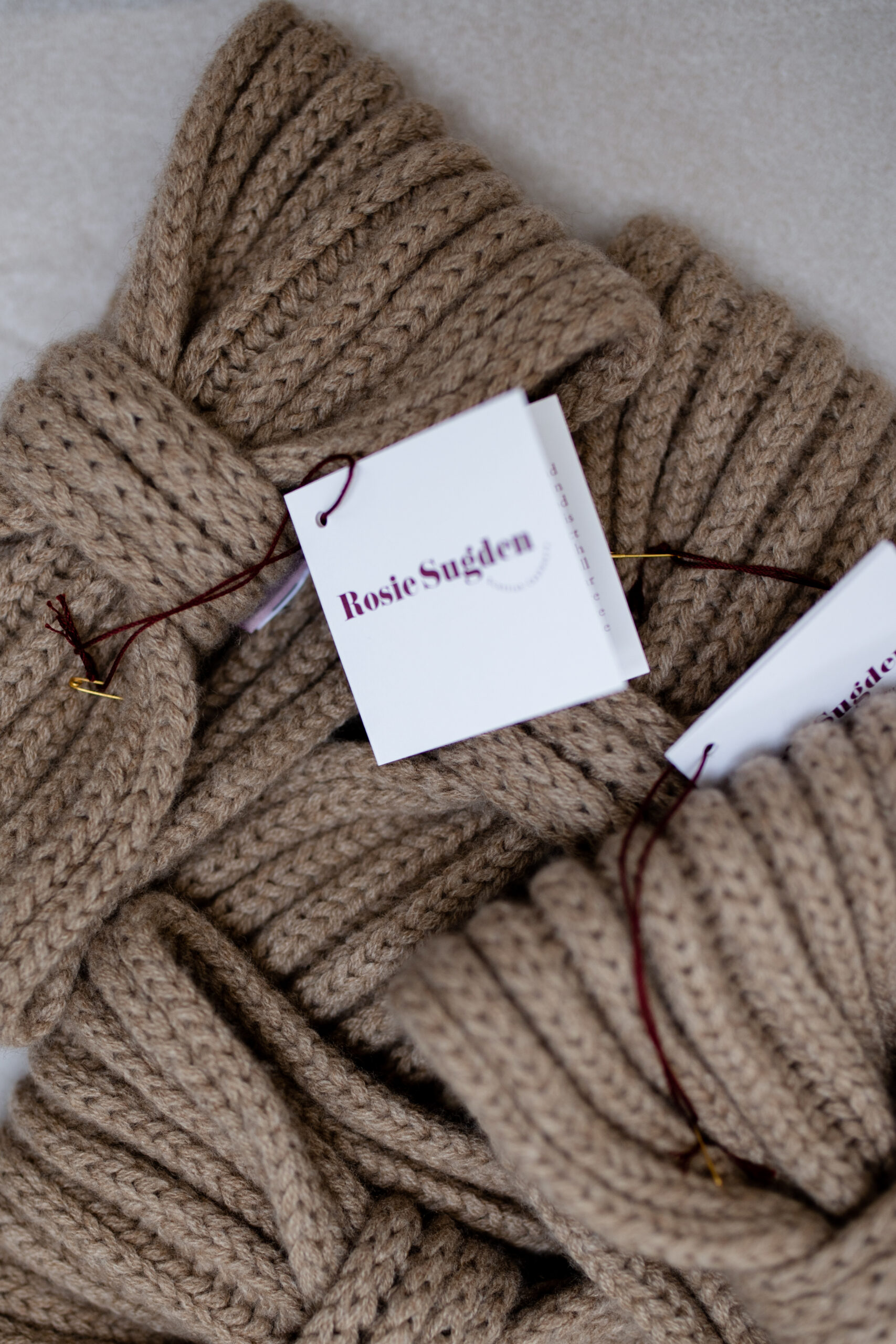 Can you tell us a little about yourself and what led you to choose a career in textiles?
I grew up around textiles. My late father, James Sugden, ran a vertical mill in Scotland for many years, and both my maternal and paternal grandfathers worked in textiles in Yorkshire too. My father used to pick me up after school and take me round checking each department. He was very hands-on and knew about every department and process that the cashmere, wool or merino went through. I loved the smell of the dye house; that scent is very nostalgic for me. So really I think it was his passion for textiles that seeped into my life.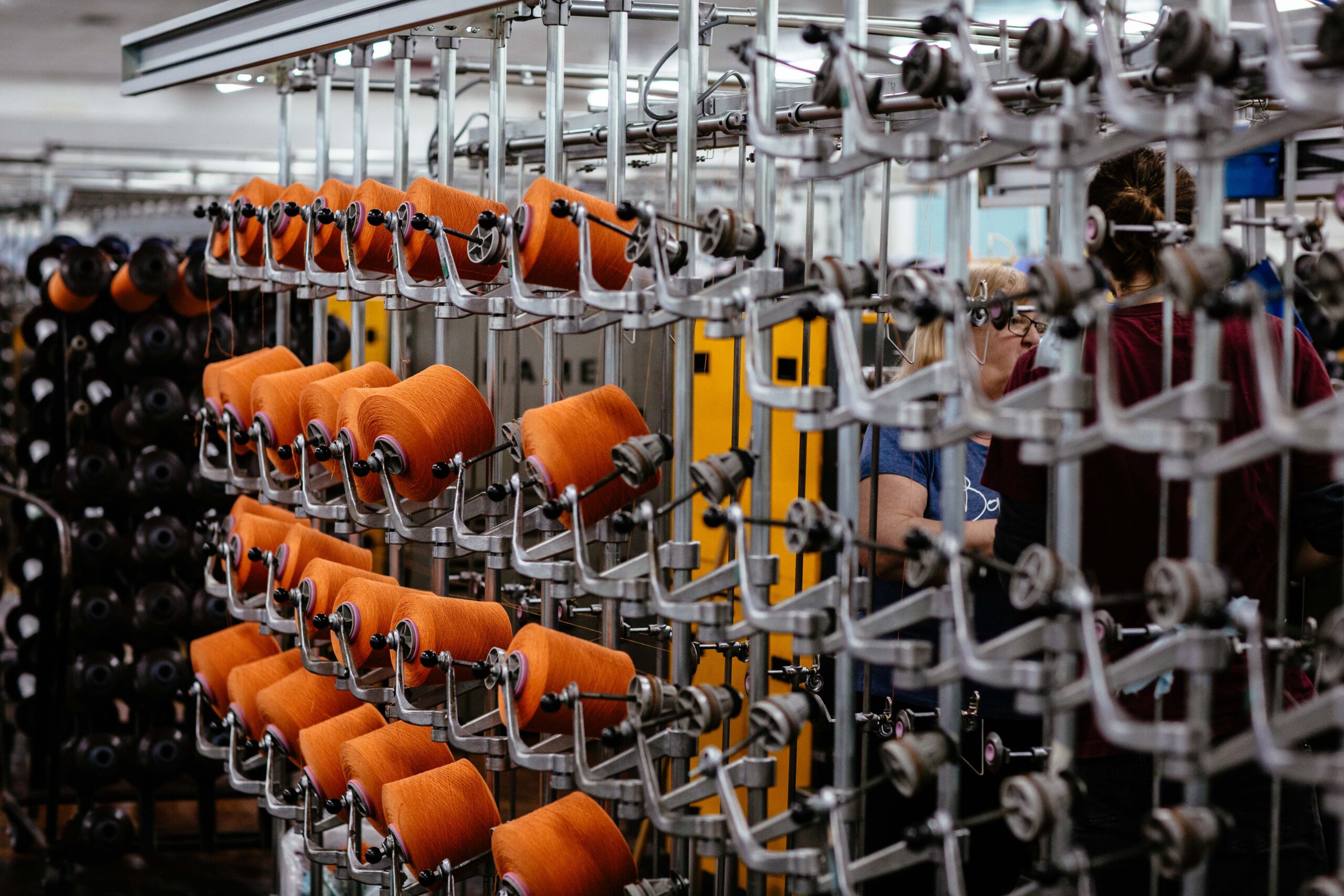 It happened very organically from there. I enjoyed being creative when I was young and after school I went on to Chelsea College of Art in London for my foundation course, and then to Northumbria University to study Fashion Design where I specialised in Knitwear. I started my business about a year and a half after leaving university and it happened very organically.
After I graduated I had this burning idea for a knitted turban and I couldn't find one anywhere. I remember sketching it and showing it to my father and saying how great I thought it would be in cashmere because it wouldn't itch my forehead! He loved it. Looking back, it's hard to pinpoint a particular moment where and when this was decided, but my father took me to see a small mill that he knew could do smaller production runs for me, as the bigger mills wouldn't have been able to offer me that kind of flexibility. Before I knew it, I had designed a small collection, placed a very tentative order with the mill, and had a logo and website designed.
I launched the business in October 2011, and I remember my very first sale – it was such an amazing feeling to know someone had found my website and liked my design. That's where it all began, and the following year I launched a proper collection and haven't looked back! I truly owe it all to my father because he supported me every step of the way and taught me how to order yarn, calculate costings, deal with production… pretty much everything.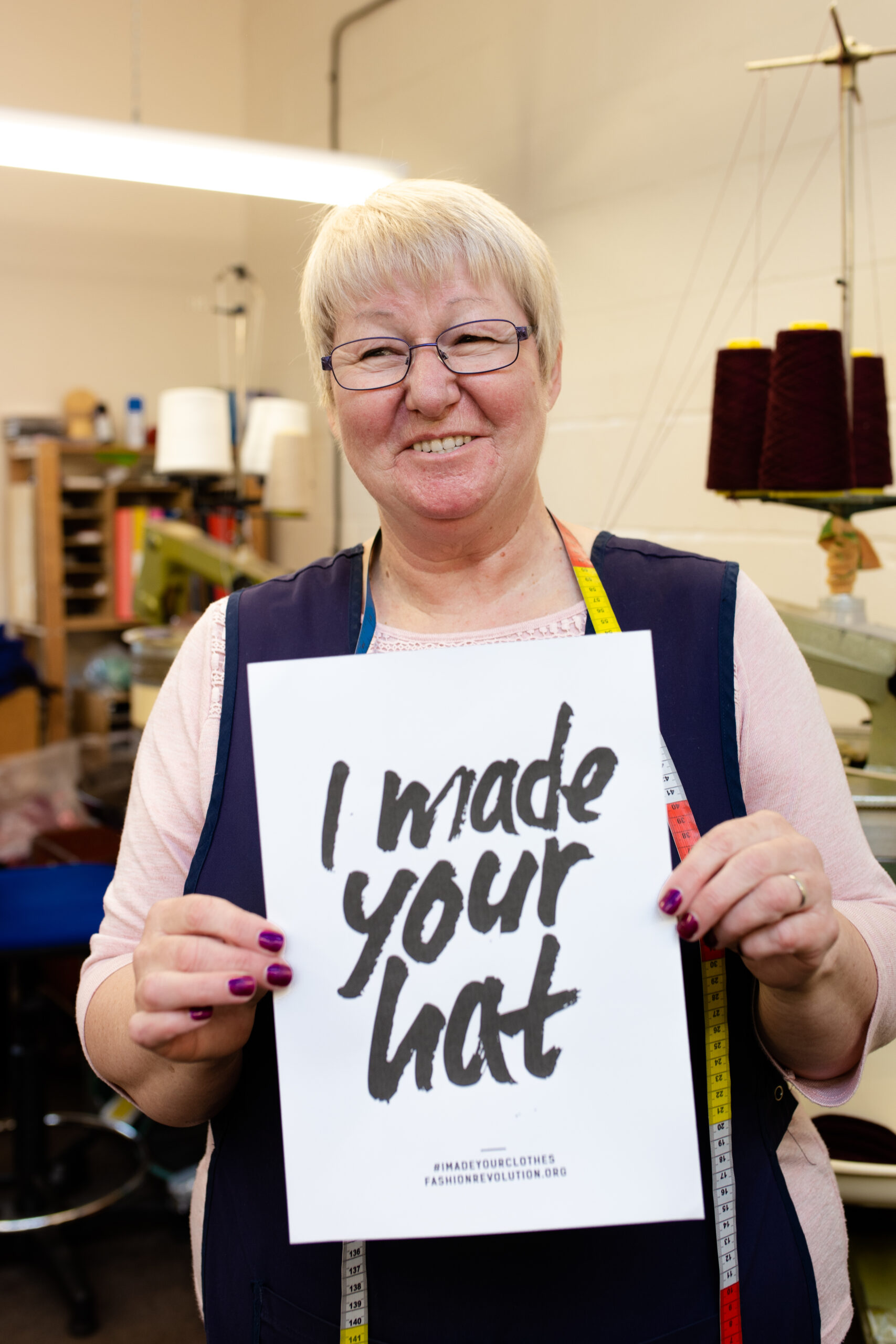 What impact has living and working in the Scottish Borders had on your business?
I could be manufacturing offshore and it would definitely be cheaper, but by manufacturing in Scotland I know that all my products are made in sustainable environments and supporting UK jobs, which is something I value highly. The expertise of the textiles workforce in the Scottish Borders has been handed down from generation to generation and I am proud to work with such highly skilled people.
It didn't even occur to me to consider manufacturing my collection anywhere else. I work with two mills – one in Hawick where my socks, baby range, and pom-poms are knitted, and another near Peebles where all my other styles are knitted. Everything we knit is 100% cashmere, and I buy my yarn from two reputable spinners – one in Scotland and another in Yorkshire.
On a practical note manufacturing in Scotland is great because I know the team at the mill really well, and I can always get hold of someone on the phone, or even just drive there because it's only thirty minutes away from home. I can't imagine not being able to pop in and see how things are coming along production wise.
On a practical note manufacturing in Scotland is great because I know the team at the mill really well, and I can always get hold of someone on the phone, or even just drive there because it's only thirty minutes away from home. I can't imagine not being able to pop in and see how things are coming along production wise.
How does living in Scotland influence your designs?
I think I am most inspired by colour and colour combinations as that plays such a key part in my product. I find nature, and particularly the west coast of Scotland, very beautiful and inspiring. I love Colonsay and Sanna Bay, and we also went to the Isles of Lewis and Harris a few years ago and I still think about places we visited there and the scenery – it's so unspoilt. I also love modern art – Denis Bowen and Cy Twombly are my favourites. I also saw the Hilma af Klint exhibition in New York in 2019 and that was incredibly inspiring.
What does a working day look like for you?
I love to start the day with a walk with Daphne and Edith. This really prepares me for the day ahead and it just always feels so good to get out in the fresh air. I also work from a home studio and, as I don't have a commute, I feel the walk is a good substitute. I check emails and Instagram first thing, which is a terrible habit but it does give me an idea of how the day is going to go. I'm at my desk by 8.30/9am and most days are spent in the office fielding emails about wholesale or retail orders, perhaps doing a bit of design work, or maybe shipping wholesale orders, but my best days are when I go to the mill. I love to check in on production and see how things are going; it's always exciting to see new samples or colours that are coming off the machines.
As we've all been staying closer to home in recent months, what have been your favourite places to explore?
I live in St Boswells and we have so many fabulous walks around here. My walks with Daphne and Edith encompass parts of St Cuthbert's Way, and I absolutely love walking around Dryburgh, Mertoun and Maxton. Walking has definitely been my salvation during Covid and lockdown.
After a long walk, and if I'm feeling indulgent, there's nothing better than a delicious takeaway pizza from Hunters Stables in the village.
Where are you most looking forward to visiting this summer when we can travel more freely again?
Definitely the west coast. My husband and I have a family holiday booked for Mull so we can't wait for that. We've also booked two weekends later on in the autumn at a couple of gorgeous AirBnBs so I'm looking forward to that. I absolutely adore exploring the west coast of Scotland and love to get my annual fix. We went to Sanna, on the Ardnamurchan peninsula, last year, and it was heaven on earth. I'm also really excited to see friends and family in London, and have them up to stay here too.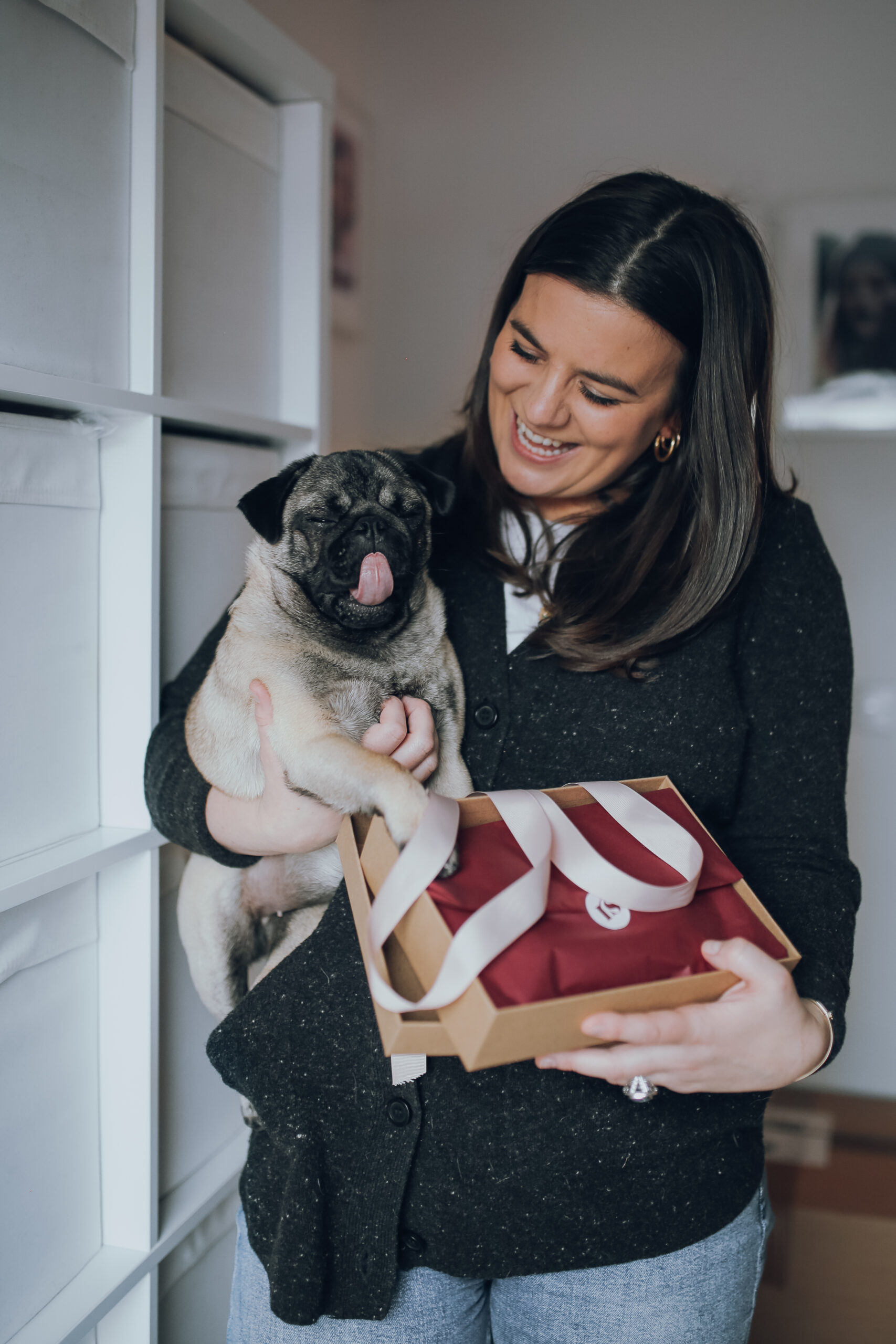 What are your favourite local businesses?
I'm a book worm so it's huge source of joy having such a fabulous book shop 200 metres from my house. The Mainstreet Trading Company is wonderful, their book team are brilliant, and I adore their café too for delicious sandwiches, soups and cake. I also love to buy Leftfield Kombucha and perello olives from their deli.
If you were to describe your dream home, what would it look like?
Fred and I bought a very ugly 1960s house and we are in the process of renovating it. When it's finished I really do think it'll be our dream house. We love living in the village and the sense of community, so the location couldn't be better and has always been the most important thing to us. We've worked with a superb architect, Stuart Davidson, and we are so excited to give our home a modern makeover. Plus my mother, who is a garden designer, is plotting out our garden for us, so I'm hugely excited for that and to have her expert advice.
I also dream of having a holiday home or little cabin somewhere on the west coast. It wouldn't need to be big, but proximity to a beach, somewhere like Sanna Bay, would be the absolute dream. 
See Rosie's collection here: www.rosiesugden.com
Follow Rosie on Instagram at: @rosiesugdencashmere