Over the past year, many of us have found ourselves spending more time in the garden or making the most of any outdoor space available, and for some people – perhaps for the first time – we've discovered the simple pleasure of being surrounded by plants and fresh blooms.
Sisters Steph and Ali Mills channelled their love of flowers into a business venture when they launched Ginger House Garden in 2016, and five years on this creative duo have an extensive cutting garden that provides all the flowers and foliage they need to create their bespoke floral designs. The sisters established their smallholding close to Berwick-upon-Tweed, and this location gives Steph and Ali plenty of opportunities to draw inspiration from the landscapes of the Scottish Borders and Northumberland, while also enjoying the beautiful nature spots that these areas are known for.
As we all sense the seasonal shift into autumn days and find ourselves wondering how to hold onto the greenery and floral abundance of summer, it felt like the perfect time to chat to Steph and Ali about their passion for flowers and about working with the seasons when creating their naturalistic designs. Surprisingly perhaps, as you'll read below, autumn is their favourite season for floral design, so prepare to be inspired.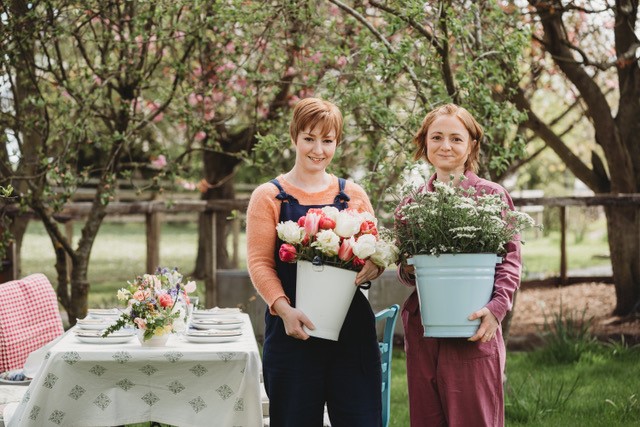 Thanks for chatting to us Steph and Ali. Firstly, can you tell us a bit about you both and what you do?
We are event florists and flower growers living and working just outside of the market town of Berwick-upon-Tweed. We established our business Ginger House Garden just over 5 years ago when we made the move from Lancashire to rural Northumberland. We work side by side to grow a wide range of British garden flowers and foliage which we primarily use for our wedding work, but also for workshops, pop-up markets and wholesale to other florists.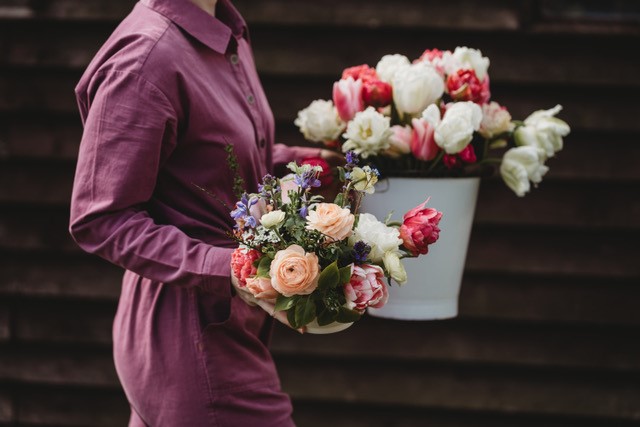 What led you to live in this area?
Having holidayed in North Northumberland for over 20 years, when we made the decision to relocate in early 2016 the area was top of the list. We were looking to find an area that could give us a better work/life balance and Northumberland and the Borders provided us with the perfect location to do just that. We first met Paddy when he sold us our property just outside of the village of Horncliffe. The house provided the period property we were looking for combined with the added bonus of 2 acres of land for us to establish our flower fields on.
Does the area you live in influence your work?
It certainly does – we have the Cheviot Hills on one side of us and the Tweed Valley on the other, so every day we take inspiration from the natural world around us and the changing seasons.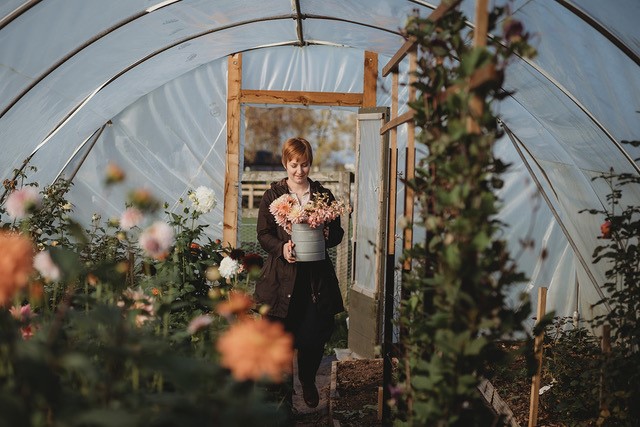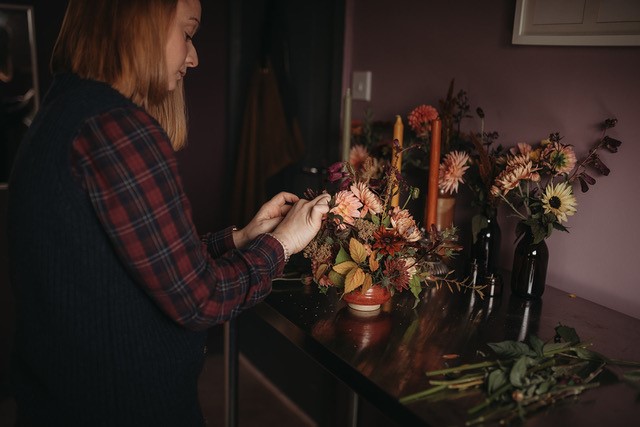 We love how your floral designs change with the seasons – do you have a favourite time of year?
Our floral designs are constantly changing as the seasons change – we start in spring with all the freshness and vitality as our work is dominated by all the spring bulbs we grow; we then move onto summer when the flowers we grow are full of colour and abundance; and then into autumn where the bursting hedgerows lead our designs. Without a doubt autumn is our favourite time of year. When thoughts turn to log fires and crispy leaves, and our flowers take on all their rich hues, that is when we feel most inspired in our work. The season of autumn brings a desire to harvest and gather as the abundance of the flowers we grow begins to diminish. As our growing season winds down you find yourself appreciating every flower that much more.
What does a working day look like for you?
Every day is different for us and I think that variety in our work helps keep us sane. Typically, the beginning of the week is spent more on the growing side of the business whereas the end of the week is usually when we can be found setting up for a wedding or running a workshop. Working a lot of weekends during the summer months can be hard so it's always good in the wintertime when we get some downtime to reset, recharge, and explore the area we call home. Nothing beats a bracing winter work along the stunning Northumberland coastline with our cockapoo Polly.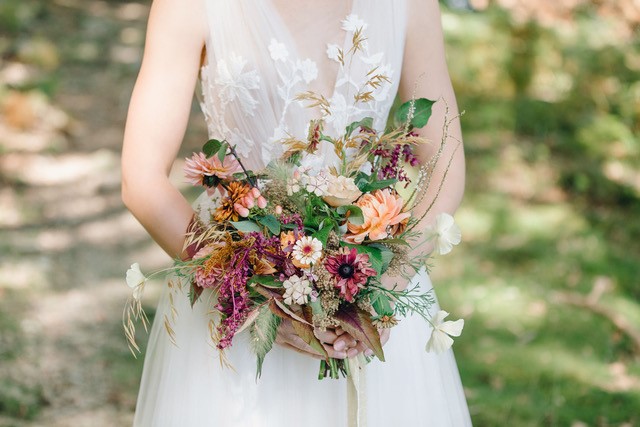 Your workshops and demonstrations sound amazing – please tell us more!
One of our passions is sharing our love of British flowers with others. Since we started the business we always knew that we wanted workshops to be an important part of what we do. Whether working with someone 1-to-1 to develop their floristry skills, providing a hen party where the guests make flower crowns, or our famous afternoon tea and jam jar flowers workshop, we aim to give everyone who comes to visit us an experience they won't forget and inspire them with our homegrown flowers.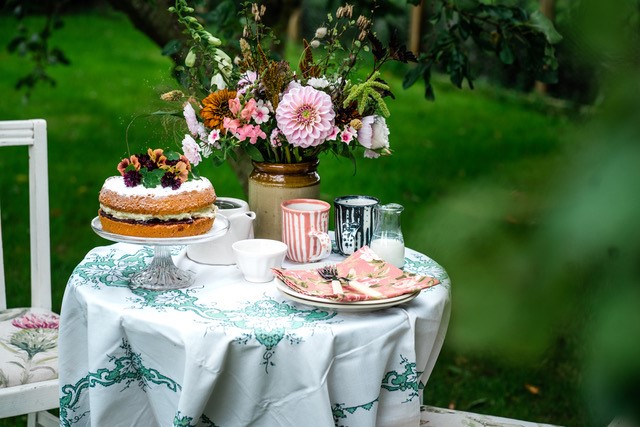 Where do you most enjoy escaping to when you are not working?
We are very lucky to have both the countryside and the coast right on our doorstep. An evening walking on Cheswick Beach is usually a great spot to unwind and it's a little bit off the tourist trail, and we love visiting the walled garden at Floors Castle and seeing how the seasons change there.
Any local businesses you would like to highlight in your area?
We love taking a break and going out for some food when we can. Two of our favourite spots are The Cross Inn at Paxton and Carnaby's just off the A1 near Alnwick. We try and buy as much of our food locally as we can: Foreman's butchers in Norham is excellent and we are currently obsessed with Cristina's bread from Naked Sourdough at Kelso/Jedburgh. At the risk of sounding like all we do is eat, you can't beat a milkshake from Doddington Dairy Milk Bar in Wooler.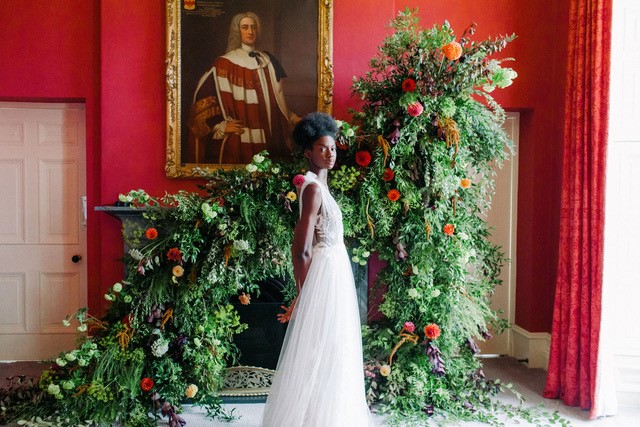 If you were to describe your dream home, what would it look like?
In the countryside, a period property, some land to grow flowers, and space for the chickens and the dog to live out their lives contented!
Discover more about Ginger House Gardens here and follow Steph and Ali on Instagram and Facebook.